Ayaxxon Lubricants
Manufacturing High Quality Automotive Lubricants, Industrial Lubricants, Gasoline Engine Oil, Diesel Engine Oil, Gear Oil, Heat Transformer Oil, Hydraulic Oil, ATF, Coolant Oil , Brake Fluid and the full range of greases in UAE.
Call +97150 6267037, 06-7672446 [email protected]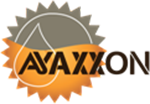 Location :
Bhnd Al Madina Interlock, Al Maqta St, Umm Al Quwain Indl Area

,

Umm Al Quwain
P.O Box :
4086
Telephone :

06-7672446
Fax :

06-7672449
Categories: Lubricants
Keywords: Brake Fluid | Coolants | Cutting Oil | Grease | Industrial Oil | Lubricants | Motor Oil
Send Enquiry
Business Details
Business Description:
AYAXXON is one among the fastest growing companies in the UAE. Equipped with the state of the art production, Laboratory & R&D Centre, AYAXXON is the region's leading manufacturer of lubricants with a line of leading edge premium Lubricants ideal for use in all areas of lubrication. Exporting to over 16 countries in two continents, AYAXXON is a profound name in the industry. Quality Reliability are core attributes. No matter how challenging our customer needs are, our team of experienced Tribologist study & propose an complete economical solution for the requirement.
We realize that customer satisfaction is our lifeline & a top priority for us. Our products are backed up with the complete technical assistance from the very best dedicated team of experts. With the advanced warehousing and logistic infrastructure, we provide our customers with timely, accurate solutions.
Products:
MWF (Metal Working fluids), HTF (Heat Transfer Fluids/Thermic Fluids), Refrigeration Oils, Vacuum Oils, Rail Road Engine Oils, Turbine Oils, Marine Oils, Compressor Oils, Rust Preventive Oils, Textile Mill Oils, Stain Free Oils, Light Oils, Knitting Oils, Rubber Process Oils, Antisieze Compounds, Wire Rope Lubricants, Vanishing Oils, Shuttering Oils, Sugar Mill Oils, Bitumen Lubricants, Fire Resistant Fluids, Food Grade Oils, White Spirits (Medicinal), Mould Release Oil
Open Hours:
Saturday 9:00AM - 3:00PM, Sunday to Thursday 8:00AM - 6:00PM