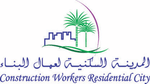 Construction Workers Residential City
Business Details
Business Description:
Al Rayan Investment – Construction Workers Residential City (CWRC) is the largest Zones Corp approved workers residential city in Al Mafraq Abu Dhabi. CWRC is composed of 77 residential building in accordance with industry standard to host workforce of different categories. The total Capacity of CWRC is 32000 people and provides modern service to fit the need of all residents.
Services:
Labour Accommodation, Staff Accommodations, Facilities Management, Labour Camp Requirement.
Open Hours:
Saturday to Thursday 8:00 am - 5:00 pm, Friday Closed