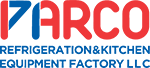 Parco Refrigeration and Kitchen Equipment Factory LLC
Business Details
Business Description:
PARCO is a well known brand in the field of commercial kitchen equipment manufacturing and distribution in the Middle East region. Our mission is to understand and fulfill customers' requirements by providing them a value product with good quality, in service.
The successful acceptance of our products manufactured with good quality stainless steel brought us a widely accepted brand in the Middle East region. Wide range of PARCO products have been evolved as result of the lessons of the past. Utmost attention in the manufacturing process by our competent working force has always helped us to maintain exceptional quality standard.
Products:
Commercial Kitchen Equipment, Preparation Equipment, Washing & Laundry Grand Displays, Bakery Equipment, Hypermarket & Supermarket Equipment, Commercial Refrigeration