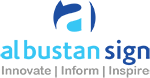 Business Details
Business Description:
Al Bustan Sign is the UAE's well known signage company since 2000.
we cover all aspects of the supply, installation and application of signs including
* Illuminated Signs
* Vinyl cut graphics
* Large Scale Digital Printing
* 3D Signs
* Building Signage
* Promotional paraphernalia
* Vehicles graphics
* and of course, we're always up for something a wee bit different
Al bustan sign has a team with a wealth of knowledge and expertise in signage production and digital print management collectively spanning over 17 years.
Wherever possible we have proactively sought new technologies and opportunities, and by adopting these into our factory and processes, we've stayed at the forefront of our industry.
We pride ourselves on challenges, and innovation which is at the forefront of our organisation. Our culture is one of continuous improvement, and this is reflected in our workplace and the manufacturing process that has become an integral part of our business.
With a purpose built building size of 1200sqm and a workshop of 900sqm it gives us the ability to handle any job no matter the size.
We are a truly UAE based company, with a purpose built signage workshop in Ajman.
Our client base is varied from small "one man bands" to large scale multinationals and work with customers all over UAE with application partners in almost every regional center.