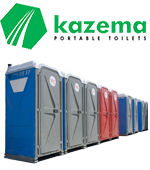 Business Details
Business Description:
Kazema Portable Toilets is one of the leading suppliers of the highest quality portable toilets and prefab toilets in the Middle East.
Kazema started as Kazema Steel Works company in Ajman in 1983, developed into a huge steel fabrication firm, along with steel prefabricated buildings, portable steel structures before it opened a branch as Kazema Portable Toilets.
Kazema Portable Toilets is among the leading suppliers of Plastic (Polyethylene) portable toilets, GRP portable toilets and sinks and other portable sanitation equipment. All of the products they offer are made from high quality materials. The company has a wide variety of ancillary products and accessories designed to assist your business in earning more.
All our products have been recognized in the market and have reached high demands here in UAE and in other parts of the world like Middle East, India and Africa .
We function and give professional support worldwide to supply clients locally and for exportation.
All our portable toilet units are available in ex-stock and have passed quality inspection and testing for durability, ready-usage and quality.
We are all aiming to provide you the best products that you request.