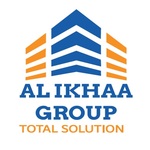 Business Details
Business Description:
Al Ikhaa Contracting is a specialized turnkey construction company in Dubai and a member in Al Ikhaa Group, established in 2005. We provide high level of quality in all projects. Other than construction we do Facilities Management, General Maintenance, supply install and maintain Automatic Doors, Dock Levellers and Air-conditioners. We undertake turnkey projects with design and built.
We are approved with DM, JAFZA, CED, DIP, DWC, TECOM, Hamriya Free Zone (Sharjah) authorities.
Al Ikhaa Contracting LLC provides Construction of villas & residential buildings, Construction of warehouses and factories, Construction of labour camps, Construction Buildings up to G+4, Development of plots, Fencing, Interlocking / paving works and boundary walls construction.
Construction Division
* Construction of Residential, Commercial & Industrial Projects.
* All types of General Maintenance Works
* All Civil, Electrical & Plumbing Works
* Interlock, Landscaping & Gardening
* Carpentry, Steel Fabrication Works
* Aluminium & Glass Works
* Roofing & Waterproofing Works
* Gypsum, False Ceiling & Painting Works

Automatic Doors Division
* Automatic Garage Doors
* Roller Shutters & Rapid/High Speed Shutters
* Sectional Overhead Doors
* Steel Doors, Gates & Gate Barriers
* Dock Levelers, Shelters & Rubber Fenders
* Mobile Ramp
* PVC Strip Curtains
* Access Control Systems, CCTV, etc.
Air Conditioning Division
* Supply, Install & Maintenance for all types of Air conditioners
* Ducting Works
* Col Room Partitions
Facilities Management