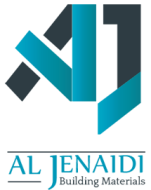 Al Jenaidi Building Material Trading LLC
Business Details
Business Description:
AL JENAIDI BUILDING MATERIALS is a well established company for commercial building material supplies, established in the year 1998 targeting the civil construction market. The company has witnessed major growth and improved its services & pricing strategies over the past decade. Henceforth, the company not only supplies to end users but also to traders. The service is widely spread from B2B to the wholesale sector.
We are a strong service reach with transportation to companies, warehouses & even project sites.
India, China, Thailand, Indonesia & Sri Lanka are amongst the top places we import premium building materials from. We are not restricted to the boundaries of Dubai, we export to Oman, KSA 7 other GCC Nations as well.
OUR VISION: Being committed to prudent, long term sustainable growth by retaining and building relationship with customers through excellent services & quality products & increase the satisfaction of customers by obtaining their trust.
OUR MISSION: To provide highest quality of building materials & requisites at the most competitive price to meet the desires of the customers. Our company is value driven with its core value being, building customer trust & satisfying all their product & service requirements.