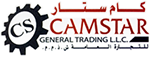 Camstar General Trading LLC
Products & Services :
Valves
,
Composite Straps
,
Packaging
,
PP Strap
,
Shrink Films
,
Spark Arrestor
,
Steel Straps
,
Battery Isolator
,
Exhaust Systems
,
Rubber Hoses
,
Oilfield Equipment
,
Oilfield Supplies
,
Packaging Materials
,
Welding Equipment and Consumables
Business Details
Business Description:
Camstar General Trading LLC is a leading Stockist and Distributor of industrial products in the United Arab Emirates and the Gulf region.
Camstar can offer comprehensive range of products, according to international standards.
We have developed reputation for being able to source material worldwide. Our market consists of end-users, contractors and traders in oil, gas, petrochemical, power generation and marine industries. The prime objective of the company is to maintain and improve market leadership in the supply of our products; "off-the-rack" by maintaining large stock at any point of time with a vast product choice.
Our office & warehouse facilities are strategically located in Dubai, United Arab Emirates in order to serve our customers with maximum efficiency.
Products:
Packaging, Welding, Diesel Engine Safety Products, Industrial & Oilfield Supplies