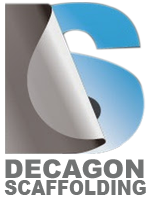 Decagon Scaffolding and Engineering Co LLC
Business Details
Business Description:
AN ISO 9001:2008 & OHSAS 18001:2007 CERTIFIED COMPANY.
DECAGON SCAFFOLDING AND ENGINEERING COMPANY IS A PRIVATELY HELD COMPANY FORMED IN 2005 TO OFFER QUALITY SCAFFOLDING PRODUCTS, ENGINEERING SUPPORT & SERVICES IN SCAFFOLDING ACCESS SYSTEM, IN THE UNITED ARAB EMIRATES WITH THE HEAD QUARTERS IN DUBAI.
With over a decade's experience in scaffolding, Decagon offers one of UAE's leading specialist scaffold services; effective design, fast and efficient erection and dismantling, with full site support and an impeccable safety record. Everything we do is aimed at providing the exceptional to our customers.
As an ISO 9001: 2008 & OHSAS 18001: 2007 Certified Company our clients are provided with the best possible service. We have built our well respected reputation on the recommendations from our customers. As part of our commercial services we ensure we meet your individual requirements by providing a range of services before, during and after erection.
Decagon is in a uniquely privileged position. We use only directly employed, fully trained employees. Decagon has a highly qualified work force with scaffolders qualified in scaffolding erection, dismantling, fire fighting, first aid …. the list goes on and on. Knowledge and experience of scaffolding is at the center of everything we do.
MISSION
We support our customers in the ever fiercer competition with the quality of our products and services. We measure our achievements against the success of our customers and their satisfaction. This attitude and motivation has turned us into leading specialist in our industry. Today and in the future we are developing the best solutions for our customers – highly committed and technically state-of-the-art.
Services:
Our Range of Comprehensive Scaffolding Services Includes:
Scaffold Site Survey
Scaffolding Planning
Scaffold Design
Scaffolding Erection
Scaffolding Onsite Support
Scaffold Dismantling
Scaffold Rentals
Aluminum Towers
Formwork Support for Slab Work
Scaffold Safety Inspection and Pro-active Safety Support
Scaffolding Materials Trading