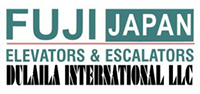 Dulaila International
Khamas Group Bldg, Bhnd Al Maya, Al Garhoud
Dubai
21118
04-2828244
Call
04-2828414
Business Details
Business Description:
We take this opportunity to introduce ourselves, DULAILA INTERNATIONAL better known as DIA as the sole agent of FUJI & Fuji Japan Elevators and Escalators in all countries except Japan, Taiwan & China, under the flagship (as a member of) KHAMAS Group of Companies in Dubai.
Fuji & Fuji Japan are Japanese Companies that is world renown for its high quality and standard, customer satisfaction, most secure, technologically well designed and engineered elevators and escalators.
Fuji was established in the year 1943 and Fuji Japan in the year 1976. Due to its success and demand worldwide, DIA was then established in the year 1981 in United Arab Emirates and the company has started its operation of elevators and escalator business in the year 1995.
The top priority of Fuji & Fuji Japan is to provide outstanding services, best quality service products at a most convenient and competitive price, best attention to all customers and maintenance of elevators and escalators.
Products:
Passenger Elevator, Observation Elevator, Goods Elevator, Car Elevator, Hospital Elevator, Dumbwaiter, Bed Elevator, Hydraulic Elevator, Panoramic Elevator, Escalator, Travellator