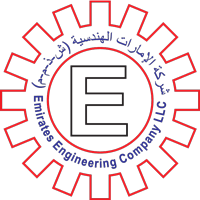 Emirates Engineering Company LLC
Business Details
Business Description:
Ever since its inception 1971, the company has pioneered in the field of General Engineering in the UAE. We undertake general engineering jobs for all over the UAE.
Mailing Operations, Turning Works, Planning, Press Work forging, Fabrication, Erection Works, Electrical winding, Genet Repairs, Industrial Wiring, Industrial Structural Steel Fabrication is undertaken in small and medium category. Project related misc steel work is also undertaken. All kinds of Stainless Steel Work including Kitchen, Showrooms & Structure.
FABRICATION : Industrial Structural Steel Fabrication, Steel Mezzanine Floors, Stainless Steel Fabrication and Manufacturing Items, General Projects of Small and medium Category with miscellaneous Steel Works.
FOUNDRY : One of the oldest and experienced foundries in Dubai. It undertakes casting jobs in Aluminum, Brass and Bronze with alloys of Cast Iron and Steel. Jobs undertaken are Aluminum Gates and Grills, Industrial Casting Jobs and Ironmongery
MACHINE SHOP : It undertakes general engineering jobs for the industries all over the UAE. Job types include Milling Operations, Turning Works, Planning & Leveling of Heavy Duty Jobs, Stroke Press Works, Steel Forging, Fabrication and Erection Works
ELECTRICAL SHOP : Emirates Engineering Company LLC experts in electrical shop works especially in Motor Winding, Rewinding, Servicing Electric Panels , General and Submersible Pumps, Gearbox Motors , Generators and Compressors, Motors and Industrial Wiring.
STAINLESS STEEL We undertakes all kind of Stainless Steel works including Mall Shops, Showrooms, Kitchen Works, Interior Decoration, Structure, Pumping Stations Accessories (Cat Ladders and Grills), Water Tanks and Bollards of different kinds.