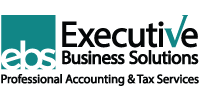 Executive Business Solutions
Business Details
Business Description:
Executive Business Solutions (EBS) is an Accounting & Bookkeeping firm of experienced Chartered Accountants, providing various services to clients in the Fields of Accounting, Auditing and VAT.
We are committed to provide the best accounting service possible on a timely basis with personal service to each client, helping them with their plans and being available to help and solve simple as well as complex problems.
Executive Business Solutions provides a single source solution to all of your requirements like Accounting & Bookkeeping, Payroll Management, VAT Consulting, Accounting System Setup and Training, and many more. EBS target small and medium size clientele to support them with specialized services by its smart efficient and professional executives. Our team of experts is at your fingertips to ensure that your unique business needs are our top priority.
Open Hours:
Sat to Thu 9:00 am to 6:00 pm, Friday CLOSED