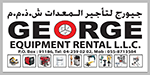 George Equipment Rental LLC
Products & Services :
Air Compressor Rental
,
Hydraulic Crimping Tools
,
Scaffolding Rental
,
Cleaning Equipment Rental
,
Compactor Vibrators
,
Construction Equipment And Machinery Rental
,
Core Cutting Equipment Rental
,
Generators Hire
,
Pipe Threading Machine Rental
,
Vacuum Cleaner
,
Wood Cutting and Drilling
,
Heavy Duty Equipment
,
Scaffolding and Formwork
Business Details
Business Description:
George Equipment Rental is one of the most reputed rental companies operating in Dubai. Our fleet covers a wide range of Construction Equipment. We believe that, customer service is paramount to the success of our business and we continue to work even harder to achieve higher customer satisfaction.
Products:
Jack Hammers, Grinders, Generators, Interlock Cutter, Compactor, Vibrator, Chain Blocks, Single & Three Phase Welding Units, Concrete Core Drilling System, Compressors, Aluminium Tower Scaffolding, Light & Heavy Duty Drills, PPR Welding Machine, Pipe Threading & Grooving Machines, Hydraulic Crimping Tool, Manual & Electrical Pressure Pump, Pipe Bending Machine, Tile Cutter, Cut off Machine (aluminium, wood and steel), Rooters, Sanding Machine, Planer, Jigsaw, Cradle, Vacuum Cleaner, Chain Saw, Sander Polisher, Recipro Saw, Hole Saw Cutter (RIDGID)