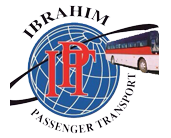 Ibrahim Passenger Transport
Business Details
Business Description:
" Enterprise - Ibrahim Khan Passenger Transport was established early 2000 which is privately owned by Mr. Gulzar .Our enterprise is a epitome of experienced management of over 17 years. We ensure our clients tussle free and perpetual amenity throughout the year. We endorse to provide you premier rates according to your allocation. We rely on integrity, prompt retaliation and extraordinary service. We are an enterprise that prides itself for maintaining customer relationships. Our professional transport recruits will answer all of your questions and inform you about changes as they take place.A large part of our enterprise is formed by referrals and regular customers. So if you are searching for a safe, affordable and reliable way to transportation for passenger transport, pick ups or trailer you are at the right place."
Our branches :
* Ibrahim Khan Passenger Transport -**Head Office**- Dubai
* Al Janah Passenger Bus Leased llc - Sharjah
* Ibrahim Khan Passenger Transport - Fujairah
* Viper Building Maintenance - Fujairah
Availability :
* Heavy Ac & Non Ac Buses and Luxury Buses
* Mini bus - Coaster & Rosa bus
* Vans - Hiace, H1 and Urvan
* Saloon cars - Nissan Sunny, Hyundai Accent & Toyota Corolla etc.
* Station cars (4*4) - Toyota Rav 4, Lexus, Mitsubishi Pajero, Toyota Fortuner and Nissan Patrol etc.
* Pickups - Double cabin & Single Cabin - 1.5 ton - 3 ton Pickups