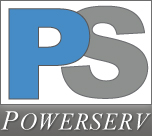 Business Details
Business Description:
POWERSERV is a limited Liability Company and was established in Dubai in the early 2005. The company is involved in the supply of Electrical Equipments ranging from Low Voltage to Extra High Voltage for Electrical Substations, Overhead Transmission Lines and Underground Cabling projects.
Our customers include Electrical utilities like DEWA, FEWA, SEWA and ADWEA, Electrical Contractors, Consultants, Aluminum and Steel manufacturing plants, Road and Transport Authority, SwitchGear and transformer manufacturers and Private property developers.
The company has a team of professional engineers with more than twenty years of experience in the Electrical Industry and caters to the requirement of all our customers in the entire Middle East region. We represent reputed manufacturers from Europe, USA, Australia and Asia who have vast experience in the manufacturing of Power and Distribution Transformers, Neutral Earthing Resistors, Load Banks, Medium to High Voltage Cable accessories, Overhead Transmission line Wood Poles, Medium to High Voltage Composite type Insulators and Surge Arrestors, complete range of transmission line hardware, Tools and tackles, Earthing and Lightning Protection and Low Voltage Auxiliary and General purpose relays.
Open Hours:
Sunday to Thursday 8:00 AM to 6:00 PM