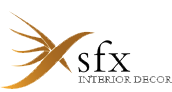 SFX Interior Decor LLC
1804, 18th Floor, Metropolis Tower, Business Bay
Dubai
118277
04-2776990
Call
04-2776991
Business Details
Business Description:
We are all in an era of time efficient and competitive work habitat. The interior spaces should emote identity, be empowering and give a sense of belonging. Interior design is like a lifestyle product where we have to understand your needs and aspirations then create an optimally unique environment for you.
We take pride in our work to deliver the interior design services where we can handle your needs from design to turn-key execution with all the technical requirements. Our USP is to customize solutions in terms of space planning, ambiance to your exact budget.
We are passionate design & technical professionals with more than two decades of rich experience to deliver interiors for projects of diverse scale and occupancies like residential.corporate,retail,hospitality,landscape & architecture. each project we work on is an intensive collaborative process with our clients & internal stakeholders. Our creative solutions are always with a commitment to quality, value for money and making compelling spaces that anticipate future needs.
Our designs are pragmatic yet deliver a wow effect with a unique identity where there are so many companies who just give you typical & prototype solutions and do not put an extra effort in making it unique for you-going from rebellion to zen...!
Services:
Architectural Consultancy, Interior design (Residential, Offices, Retail, F & B outlets, Hospitality), Landscape Design, Exhibitions, Furniture Packages, Project Management, Value Engineering, MEP Integration, Feasibility Study, Real Estate Sourcing