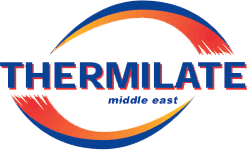 Business Details
Business Description:
Thermilate Middle East (an ISO 9001 certified company) is an associate office of Thermilate Technologies Ltd, UK. At Thermilate Middle East (TME), we are glad to introduce ourselves as a specialized metal roof waterproofing company with its office in Dubai and a wide dealer network in Sultanate of Oman, Saudi Arabia and Bahrain in the Middle East. We have rapidly grown over the years to become one of the specialized firm involved in roof repairs and metal roof waterproofing. This success comes from our expertise in creating right waterproofing system tested over the years in Gulf region in more than 1 million sq mtr of metal roof area. Also the fact that we have our own dedicated team for application ensures quality and proper after sales service to our clients.
Backed my manufacturer's warranty and a company certified with OSHAS 18001 for safety, clients are provided with a professional service. We also provide services like Skylight changing, Cat Ladder fixing and minor roof repairs.
For our complete range of Services and Products, you may visit our website www.thermilate.ae
Services:
Metal Roof Waterproofing, Metal Roof Repairs, Thermal and Acoustic Insulation, Heat Reflecting Coatings, Insulating Plasters, Glass Coatings, Epoxy Floor Coatings, Fire Retardant Coatings, Painting Contracting