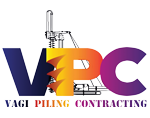 Vagi Piling & Foundation Contracting LLC
Business Details
Business Description:
Vagi Middle East Contracting LLC is an ISO 9001 and 2008 certified company established in 2003.
The services which are provided by Vagi Middle East Contracting L.L.C may be summarized as follows:
1. Construction of Guide Wall,Capping Beam & Wailer Beam for Shoring Works (Contiguous, Secant piles & Diaphragm wall ).
2. Excavation & Excavation in Between the Piles.
3. Pile Breaking, Chipping & Pile Head Trimming Works (Manually & By Hydraulic Pile Cutter).
4. Pile Extension & Pile Cap Works.
5. Site Establishment Works.
6. Site Hoarding Works (Metallic & Wooden).
7. Signboard Works.
8. Preparation of Concrete Panels for Shoring.
9. Leveling & Compaction Works.
10. Guniting Works.
11. Demolition Works, etc.
We work as sub-contractors for various established and reputed companies like Universal Piling Foundation, Swiss Boring, Alstom Grid , Bauer International, Laing O' Rourke, Zublin and have over the years, undertaken jobs for prestigious projects for Nakheel, Carrefour, Juma Al Majid, Aldar, etc. just to name a few.
We strive to complete our projects on time, within the budget and to our contractors' satisfaction keeping in mind safety and healthy environment.