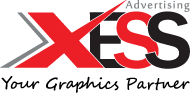 Business Details
Business Description:
XESS is an experienced team of creative designers, artists, interior designers, 3D animators, film makers, and marketing experts.
We've been around since 2010, and have gained a wealth of experience in both static and moving graphics. We don't believe in design for design's sake – design is not an add-on, it is at the very core of any profitable product or service. Our designers have years of experience in graphic design and production for print, website and new media, exhibition and display, corporate video, promotional films, animation and motion graphics.
We have made major investments in digital technology, including a 4,500 sq. ft. production facility with CNC routers, HP digital printing workstations, state-of-the-art broadcast edit suite and voiceover facility, Mac and PC-based design studio and a photography studio. We believe in establishing long-term relationships by giving our clients every reason to come back time and time again.