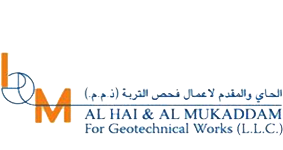 Al Hai and Al Mukkaddam for Geotechnical Works LLC
Business Details
Business Description:
AL HAI & AL MUKADDAM FOR GEOTECHNICAL WORKS L.L.C. (AHAM) is a civil engineering firm specializing in Onshore and Offshore Geotechnical Investigation, Geophysical Studies, Material Testing of Soil, Cement, Aggregates, Concrete, Steel & Bitumen Membranes, Testing of Piles, Non Destructive Testing and Assessment of Concrete Structures in addition to Quality Control of Construction Sites. We are working through our four offices: three in the main sectors of the United Arab Emirates (Musaffah - Abu Dhabi, Dubai Investment Park – Jebel Ali & Industrial Area - Sharjah), and one in the State of Qatar (Industrial Area - Doha).
AHAM is an ISO: 9001 certified company, and has a high standard of Quality Management system in accordance with ISO: 9001, 2008 and ISO: 17025, 2005. AHAM is also accredited by Dubai Municipality- Dubai Central Laboratory Department. Led by Dr. Mohammed Mukaddam, AHAM has a professional team of Engineers and Geologists who have several years of experience in the gulf region.
Services:
Soil Investigation, Pile Testing, Non-Destructive Testing, Instrumentation and Monitoring, Concrete and Durability Testing, Soil Testing, Steel Testing, Chemical Testing
Open Hours:
Saturday - Thursday 8:00am - 5:00pm.