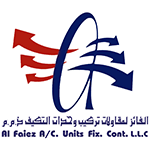 Al Faiez AC Units Fix Cont LLC
Business Details
Business Description:
AL FAIEZ A/C UNITS FIX CONT LLC is one of the well-known Air Conditioning contracting companies in the UAE. We have executed a number of HVAC works all over in the UAE with the entire satisfaction of our clients and in time.
We have successfully completed over 100 chilled water projects all over UAE, also we have a good team specialized in chilled water piping and related HVAC works.
Some of our recent projects are as follows;
1. Ministry of foreign affairs Building Sharjah
2. General Dir. for residency and Foreign Affairs Sharjah.
3. Khorfakkan Dental Center.
4. Fujairah Police general headquarters.
5. Platinum Coast Hotel Apartments G+M+27 Building at Fujairah.