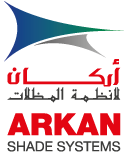 Business Details
Business Description:
ARKAN SHADE SYSTEMS was formed in 2003. Our team has accumulated more than 9 years of experience in design, engineering, fabrication and construction in the specialized field of tensile membrane structures.
The company has focused on the design, fabrication and installation of a complete range of tension structures for commercial, government and domestic projects. The structures range in size from the collapsible commercial umbrella type structures, through standard permanent wind rated modular designs up to various types of large one off sophisticated design structures.
We use high quality PVC and knitted fabrics for all our shades that are approved by the Ministry of Public Works, UAE. By using top-class raw materials we are able to ensure the long life and durability of all our products. This confidence in our quality is manifested in the fact that we offer a 10-year warranty on all our shades.
We also specialize on the manufacturing and installation of all kinds of PVC and PVDF fabrics using raw materials from internationally-acclaimed brands like MEHLER, FERRARI, VERSEIDAG, NAZIL and SIOEN. We are able to meet all your requirements for PVC, PVDF & PTFE shades by offering you custom-made solutions to meet your specific requirements.
The organization recognizes that the provision of superior products, being able to better meet customer needs and providing superior service is dependent. Therefore, our emphasis on quality and our untiring commitment to customer satisfaction have been the hallmark of our success and we are proud to have contributed to the fast-paced development and growth of the United Arab Emirates.
As one of the leading fabrication units for a wide range of PVC and Fabric shades, Arkan Shade Systems has earned an enviable reputation in the local and regional markets and is today recognized as a reliable and trustworthy supplier of a wide range of shading systems that are custom designed to suit the individual needs of all our clients.
Products:
We are known as a specialist in the manufacturing and installation of PVC, PVDF, HDPE and PTFE sheds. Right from designing, patterning, plotting & fixing – we do it all. We deal with MEHLER, FERRARI, VERSEIDAG, SIOEN, NAIZIL and other internationally-acclaimed suppliers in order to provide quality products at competitive prices.