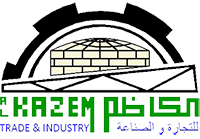 Kazem Abusafia Metalic Ind LLC
Business Details
Business Description:
Al Kazem founded in 1971. We are professional manufacturer and supplier for industrial boilers, with over 45 years' experience in boiler design, technique, production, installation and operation. Our company is one of the leading enterprises which first obtained the national boiler manufacturing license in Syria 1991 . The products series include more than 50 kinds. Our annual production capacity of industrial boilers up to 14 t/h and various of pressure vessels. So far we sell to lots of countries and regions, such as Syria ,Jordan, Saudi Arabia, Turkey, Iraq, Oman, Egypt, Qatar, United Arab Emirates, ,Sudan, Lebanon, Algeria. Our products have gained excellent reputation all over the world.
45 years' experience in boiler and pressure vessel design and manufacture, with strong technical support, with more than 100 various types of manufacturing equipment guarantee of providing customers with pretty good products and services. Our products have got ISO (9001:2000) International Quality Management Certification in 2007.
We offer the products with high quality and competitive price and hope we have a good cooperation with you.
In 2013 AL Kazem has established a new branch in UAE, Sharjah industrial area to support the main branch and provide our services to the costumer in GCC region.
Products:
Boilers: Steam Boiler, Hot water Boiler, Thermal Oil Boiler, Hot Air Generator
Tanks: Fuel Tanks, Water Tanks, Steam Tanks (Accumulators), Blow Down Tanks, Compressed Air Tanks, Stainless Steel Tanks, Sand Filters Tanks, Storage Tanks, Condensate Tanks
Services:
Boilers Cleaning, Repairs & Rental