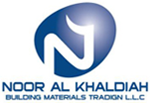 Noor Al Khaldiah Building Material Trading LLC
Products & Services :
Carpet Tiles
,
Concrete Injection and Repair
,
Concrete Polishing
,
Concrete Powder Floating
,
Epoxy
,
Epoxy Coating and Protective Coating
,
Floor Coating
,
Grinding and Polishing
,
Grinding Machines
,
Raised Floor
,
Vinyl Flooring
,
Water Proofing Contractors
,
Waterproofing Contractors
,
Building Materials
,
Concrete Flooring
,
Construction Equipment and Machinery Suppliers
,
Floors Raised
,
Protective Coating
Business Details
Business Description:
INTRODUCTION
Noor Al Khaldiah Building Material is the sole agent for some of the leading producers all around the world, from Europe, America and Far East. Thanks to their wide range of products and to the rich choice of options. We take pride in serving its clients and making sure their needs are fulfilled so as to contribute to their company success.
Noor Al Khaldiah Techical Contracting is one of the leader companies which specializes in the following activities by using our special Polishing, Grinding and Scarifier Machine and the products from international and local suppliers such as follows;
SIKA - MAPEI - JOTUN - FOSROC - COLMEF - NATIONAL PAINT - BASF - SODAMCO - CAPAROL - FLOW CRETE - CONMIX - AWAZEL - IMI - HENKEL POLYBIT - DERMA BIT - SUPREMA
ABOUT US
Noor Al Khaldiah is a leading supplier and subcontractor of all kind of flooring and waterproofing activities in the Gulf. It is a trading and contracting company established in Sharjah, UAE in 2006 with a branch in Dubai to meet the massive needs of the market for all the finishing works. We supply the Middle East market with a wide range of building products backed up with professional, technical installation to ensure total customer satisfaction.
MISSION AND VISION
Our Vision is
To be a leader in provision of building materials and flooring catering to the needs of our customers through a dedicated pool of skilled staff.
Our Mission is
a) To constantly strive to meet and exceed customer expectations.
b) Plan and carry out activities in the most effective and efficient manner.
c) Ensure that all flooring activities are carried out in compliance with the local regulations, international standards and as per client policies.
d) Maintain and update the Quality Management System on an ongoing basis.
e) Ensure the usage of equipment and materials of the right quality and quantity as per the job at hand.
f) To strive to continuously improve its services.