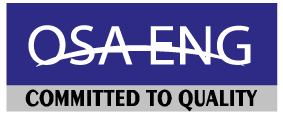 OSA Engineering Works Company
Business Details
Business Description:
OSA Engineering was established in the year 1998 in U.A.E by Indian Entrepreneurs to meet the local market requirements. As years passed, our customer base grew owing to our quality allowing us to spread our services to neighboring Middle East and African Markets. At the turn of this decade, we started our Indian operations headquartered in Chennai. We specialize in the field of manufacturing and marketing of Water Treatment Equipment, RO Water Treatment Plants, Wastewater Treatment Plants, Storage Tanks, Pressure Vessels, Industrial Filters and Industrial Conveyors. In addition to the above, we also offer the most reliable Industrial Pipeline Works and Fabrication Services.
The fabrication services as well as the end products provided by OSA Engineering Co. Pvt. Ltd. are a class apart owing to the quality of the raw materials used along with the use of sophisticated equipment. The machines and equipment are upgraded to keep up with the latest technological advances in the sector. Proper and strict quality control is subjected to all manufactured products so that there is minimal chance of a malfunction/defect. The post-sales-service is also an added benefit offered to the clients. The company is renowned to deliver the products and services on time. Close contact is also maintained throughout the transaction to comply with every need of the customer.
To uphold the high standards of the company services and products, the company has employed technically sound professionals with a vast amount of collective experience and freshness. The various departments like administration, production, quality control, fabrication, painting and finishing, sales and marketing, packaging and forwarding stand well coordinated with each other to work as a seamless unit. Our high standards have lead to the widespread acknowledgement of our products and services throughout our active countries.
Services:
Oil & Gas, Power & Desalination, Water & Effluent Treatment, Petrochemicals, Construction, Food & Beverages, Renewable Energy, Transportation