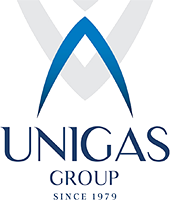 Unigas (United Gas Company LLC)
Products & Services :
LPG
,
Aerosol
,
Central Gas Systems
,
Gas
,
Gas Companies
,
Gas Maintenance
,
Gas Suppliers
,
LPG Contractors
,
Gas Cylinder
,
Gas Detectors
,
Gas Meters
,
Gas Suppliers Industrial
,
Gas System Central
Business Details
Business Description:
Key player in the international LPG market, Headquartered in Sharjah, UNIGAS was established in 1979 as a key stakeholder in the early days of oil and gas industry development in the United Arab Emirates. We have ever since maintained impressive growth rates in the supply of LPG throughout the Emirates and beyond.
UNIGAS proudly operates three LPG bottling plants designed with the latest technology to ensure the highest level of safety and environment friendly.
The three facilities are distributed in the following locations in the UAE: Sharjah plant with a filling capacity of 320 cylinders per hour, Ras Al Khaimah plant with a filling capacity of 140 cylinders per hour, and Khorfakkan plant with a filling capacity of 80 cylinders per hour. The three plants are designed and equipped to fill LPG cylinders sizes: 5.5 Kg, 11 Kg, 22 Kg, and 44Kg. The supplies of the cylinders are managed by UNIGAS cylinders distribution division, and the authorized distributors in Sharjah and Northern Emirates.
UNIGAS clients range a wide spectrum of residential buildings, commercial facilities and industrial projects. Our engineering capabilities can be seen right from the design to implementation of any central system scale.
UNIGAS as a leading player in international LPG market, we export high purity LPG and LPG based products to clients abroad. Our strategically located plants offer seamless access to Jebel Ali Port, Sharjah Khalid Port, and Khorfakkan Port that will minimize transportation charges.
Our core corporate policy revolves around addressing the needs and meeting the expectations of our clients across the full spectrum of market landscape: residential, commercial and industrial. Leveraging our vast networks and abundance of resources, and inspiring our partners to achieve the full potential to achieve full satisfaction of our customer's growing expectation.
Thanks to our dynamic corporate value system, we have not only been able to survive the test of time, but have also continued to set standards of excellence in gas service delivery in the UAE. We have always ensured that our clients enjoy individual attention and commitment from our highly trained team. We ensure that each client receives the timely effective support necessary. With our personalized and highly customized supervision, we guarantee our client sustainable development.
Our plants operate around the clock providing express filling services of ISO tanks. UNIGAS provides a value-added services to our clients ISO tanks, which includes, but not limited to, repairing, upgrading, testing and re-certification in affiliation with international third party quality assurance partners.
Built on the foundations of trust, committed to superior quality in service delivery, and motivated by our resolve to maintain utmost customer satisfaction.
Services:
UNIGAS equally provides bulk gas supply services for residential, commercial and industrial users across the country and abroad. UNIGAS owned road tankers-fleet, which cover the UAE market with utmost efficiency.
UNIGAS has maintained a forefront position in the provision of services ranging from a highly affordable LPG supply to robust engineering solutions and technology. This is made possible by our team of highly-trained engineers, highly skilled technicians and managerial staff.
UNIGAS engineering and technical expertise makes no project too big or too small to handle. Our service includes LPG & SNG central systems design, supply and construction.
Open Hours:
Sat- Fri : 7. 30 am – 7. 30 pm