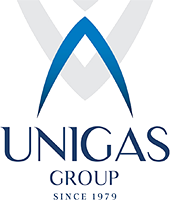 Unigas (United Gas Company LLC)
Business Details
Business Description:
Originated in 1979 in Sharjah, which coincided with the early days of the oil and gas industry development in the U.A.E. Ever since, UNIGAS has grown in leaps and bounds and now has clients all over U.A.E in supplying LPG. UNIGAS has three bottling and storage facilities based in Sharjah, Ras Al Khaimah, and Khorfakan. With a storage capacity not less than 520 metric tons, and eleven road tankers fleet of 250 metric tons capacity. Furthermore, the fleet of road tankers that the company owns, made it capable of offering LPG transportation services to other LPG bottling companies in the UAE and Oman.The company has given excellent services in gas supply and transportation, in bulk amounts for residential, commercial and industrial uses across the country and abroad.
UNIGAS is a provider of turnkey LPG bottling plants installations. Taking advantage of undeniable capabilities in regard with specialized man-power, superior experience and skills in executing plans and projects in the gas industry and other supplies of it, UNIGAS is one of the leaders of this industry for applying the newest related methods and technologies. The company had installed and commissioned several LPG bottling facilities in the UAE, Oman and Sudan in addition to central gas systems to residential, commercial and industrial market divisions.
UNIGAS supplies the LP Gas to various sectors throughout the UAE through its fleet of tanker ranging from 8 metric tons up to 24 metric tons. Our fleet range gives us the capability to supply variety of customer site conditions even if the gas tank is located at the top of high rise towers. In order to fulfill client's requirements our fleet operates 24 hours 7 days a week taking into consideration that the product will be delivered in a safe means.
UNIGAS had introduced to the market the Aerosol Propellant as an alternative for the Chlorofluorocarbons (CFC's). Since the Aerosol Propellant is widely used mainly by the perfumes and cosmetics industry they require a very high purity levels of the gas and our plant is equipped with the latest technology to meet the purity levels required in the industry.
Services:
Unigas provides installation and after installation services for LP Gas central systems for residential, commercial and industrial sectors in addition to design, engineering, supply, commissioning and testing of LPG bottling plants, storage tanks and pipeline systems. Provide yearly maintenance contract for LPG installation inspecting and servicing. LPG mobile tankers & bobtails upgrades, modifications, maintenance, testing and certification.
Open Hours:
Sat- Fri : 7. 30 am – 7. 30 pm