4 results for
Aluminium Ladder in Ajman
About Aluminium Ladder
Aluminium Ladder
Aluminium is an ideal metal for the manufacture of many products that are anti-corrosive. Aluminium isn't affected by water or fire and is not likely to crack or wrap and will never rust or corrode. Since aluminium ladders are much lighter than timber ladders it is most often the choice for commercial and domestic applications. It is also cost effective as it is cheaper than timber or glass fiber ladders. Aluminium ladders are also eco-friendly and do not require regular maintenance like other types of ladders. Ladders are manufactured to provide enough strength and have a high weight bearing capacity and aluminium ladders have a high weight-to-strength ratio because of its high tensile strength. Aluminium ladders are also preferred over steel because of its light weight.
Some of the most common types of aluminium ladders are leaning or lean to ladders,aluminium step ladders and aluminium roof ladders. A lean to ladder is commonly used for domestic purposes to paint or wash windows on upper storeys. Aluminium step ladders could be used for both indoor and outdoor applications and are also available with rubber feet,stabilizing bars,locking clamps and step platforms to provide extra height and stability. Aluminium scaffold towers are ideal for use at heights for extended periods of time. Special purposes ladders are also manufactured with aluminium that could be used on staircases. These ladders have adjustable components to accommodate the uneven ground on which it stands. Jebel Ali and SAIF zone in Sharjah are the best-known locations in UAE to find manufacturers and suppliers of all types of aluminium ladders in UAE. Podium ladders are ideal for work that is carried out at fixed heights. Podium ladders are safe ladders that help to carry out work at lower heights. Most of the podium ladders are foldable,fits through the standard door. They are ready to assemble and available to use within five minutes. Listed are the leading suppliers,dealers and distributors of podium ladders and step ladders in UAE. Stepladders and podium step ladders are the two specialized platform ladders used in the environment that requires minimum height.
Ladders in UAE
Ladders are a piece of equipment that has a set of bars ideal for climbing and reaching heights. There are multiple types of ladders available in the market. Construction employees and trade workers make use of ladders in their work. The top ladders suppliers,dealers and distributors are listed here. Every ladder is manufactured adhering to industry standards and labelled accordingly. They offer a wide range of wall climbing and equipment that gives maximum stability,safety,comfort and fall-proof. Step ladders,low-level access ladders,staging boards,scaffolding access,towers and podiums are some of the ladder varieties supplied by the listed dealers.
Double-sided A-frame Ladders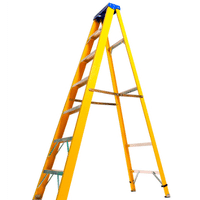 Double-sided A-frame ladders allow two users to use the ladder at the same time
4-step ladder,6-step ladder,8-step ladder,10,12 and 14-step ladder are available
Handles capacity of up to 150Kg
Slip-resistant,stable and durable hinge
Custom design innovative style

Extension Ladders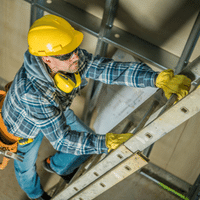 Extension ladders are self-supporting ladders with an extended arm that is adjustable in length
Four types of extension ladders extra heavy duty,heavy duty,medium duty and light duty are available
6m,7.8 and 9m extension ladders can withstand up to 115Kg workload
Contains antislip safety show foot,rung locks and side rail
16-32 steps aluminium ladder single-sided extension ladder

Fibreglass Ladders
Works with a maximum capacity of up to 175Kg
Innovative cap design-like structure to hold electrical material
Double rivet and anti-pinch hinge
Strong,durable and slip-resistant ladder
Robust and yet lightweight

Lean to Ladders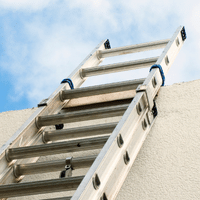 Lean-to-safe ladders come with automatic multiple leaning positions
Designed with easy-to-adjust multiple design system
Slip-resistant and ideal for facility management and maintenance workers
Highly reliable,strong,durable and versatile

Single-sided A-Frame Ladders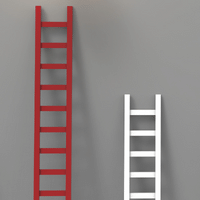 Handles capacity up to 150Kg
Strong,durable and slip-resistant ladder feet
Comfortable and wider steps
Square rungs
Extra wall thickness for resistance

Multipurpose Ladders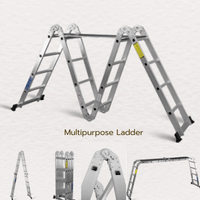 11 kg weight and 3.5m height
2 stabilizer bars that are slip resistant
wider steps and comfortable rungs
Versatile ladder with multiple custom configurations