4 results for
Pergola in Ajman
About Pergola
Pergola in UAE
Pergolas are garden like wooden structures that can be used in the backyard over which many creeper and climbers can be grown. Pergolas are the good source of shade thus making it as the best option for sunshade. Pergolas are generally made out of wood, timber, metal or aluminium. Timber or wood pergolas gives a natural look and feel. There are many advantages over the other metal or aluminium pergolas. They do not rust and upon regular maintenance, the life of wooden pergolas can be increased. Metal or aluminium pergolas are lightweight and donot require any structural support. These pergolas can be easily lifted within short period of time. Powder coated aluminium comes in a wider range of colors and provides greater protection. Pergolas act as a secondary seating location in the garden providing perfect shade during evening time. Pergolas are of different types and are often used in varied applications.
Pergolas are equipped with shade cloth roof that give perfect shade and stunning look to the outdoor patios or gardens. Louvered pergolas help to change the roofing style allowing maximum light or sometimes allows more shade. This adjustable mechanism makes it widely used in the household and other party occasions. Cantilevers pergolas are used as a shade over the swimming pool. Free standing pergolas and pitched roof pergolas are also used widely by most of the home owners. Pergolas attached to the house, thatched pergolas and traditional pergolas gives a beautiful look to the garden. Listed are the top pergola suppliers and manufacturers in UAE. Get in touch to get the best and the latest pergola designs that best suits your needs.
What are the materials used to build pergola?
Pergolas are traditionally built using wood. Some of the popular outdoor pergolas are made using teak wood, redwood, pressure-treated pine, cedar etc. As the wooden pergolas require constant maintenance like sealing, varnishing and staining. In modern days to avoid such maintenance cost pergolas made up of aluminium and stainless steel are installed by the home owners because they are much easier to maintain even during the bad weather. Materials like alumawood gives wood appearance to the pergolas without costing much for maintenance.
Best Pergolas & Gazebo Builders in Dubai
Pergolas are the best addition to your outdoor space to provide shade. We help you to connect to the leading pergola suppliers and manufacturers in Dubai. Wooden gazebos add class to your commercial and domestic space. Listed pergola contractors provide perfect patio space for restaurants, parks and sitting areas. They deal with different types of pergolas. The most common ones are the free-standing pergolas and attached pergolas. They are further grouped into fixed pergolas, glass-type pergolas, retractable and pergola blades.
Pergola Kits
Pergola kits are a DIY set of pre-cut easy to assemble secure structures. These pergolas are freestanding types. One can place pergola kit orders with the listed pergola suppliers in Dubai. They supply quick-to-fix readymade panels made up of aluminium, and wood panels.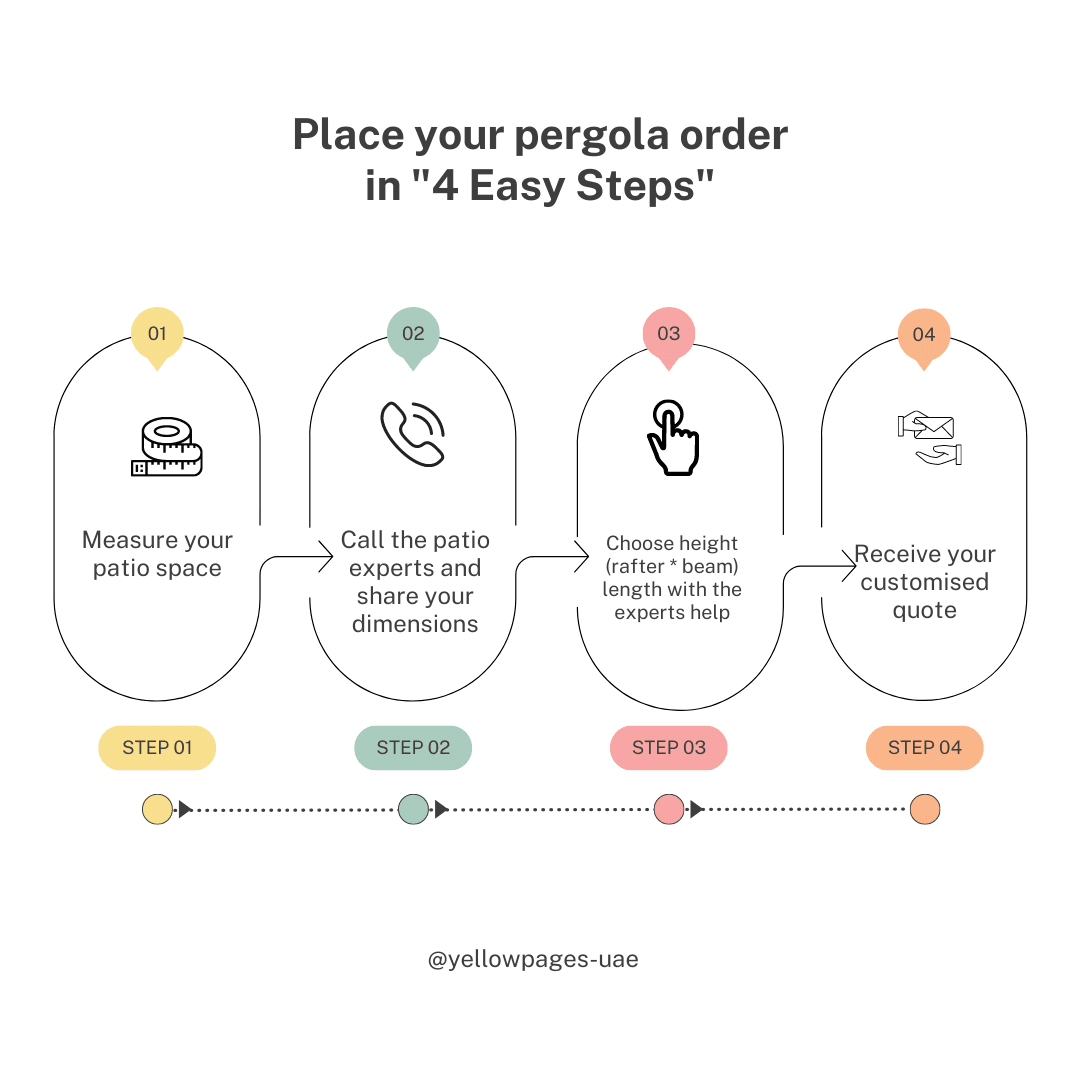 Pergola Ideas
Creating a perfect gazebo design for your backyard is quite a daunting task. Listed pergola experts design your space using CAD programs. These programs help to create concept designs and ideas until the client is happy with the final design. Get the best pergola styles and designs put together in minutes with the leading pergola contractors near you.
Canopies & Awnings
Canopies and awnings add a beautiful look to your parking shade. The latest trends in awnings are designed with the purpose to block UV rays. Awnings are a one-time investment with less maintenance cost. Listed suppliers offer a range of cheap, standard and functional models at competitive prices.
Pergola Styles
Many types of pergolas types and styles are available in the market. They are aluminium, steel, wooden and louvred. Aluminium pergolas are a long-lasting type of pergolas. They are strong and durable. Steel shade pergolas are an alternative to aluminium pergolas. They offer a wide range of shading opting for stunning designs and models. Louvred are the best when it comes to both shade and durable lifetime. They are high-end pergolas operated using a motor with automatic opening and closing options.
Pergola's expectations vs reality
Choosing the best pergolas depends on the budget and sustainability. Vinyl pergolas are the best option for customers looking for pergolas with little to no maintenance over the year. Vinyl pergolas are cheap and can mimic the look of wooden pergolas. Cedar pergolas add a stunning look to your space. They allow the right amount of light to enter the gazebos with the perfect structure. Pergolas help to add definition to your backyard.
Tips for maintaining Pergolas
Rinse pergolas using a water hose once a week.
Trim the vines once a month.
Coat wooden pergolas with a waterproof sealer every year.
Repair minute damages immediately.