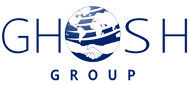 Ghosh Metal Industries LLC
Business Details
Business Description:
Ghosh Metal Industries LLC, based in UAE, Al Jurf Industrial Area 2, Ajman, plot no 1088 with an area of 30000sqft open, factory, warehouse and office in Umm Al Quwain, we have facility of 50000sqft area for the production purpose.
Mainly, we cover the products like Roofing Sheet, Sandwich Panel, Z and C Purlin, Perforated Sheet, Stud and Track, Strut Chanel, Decking Sheet, Construction Metal Fencing under our company banner – Ghosh Metal Industries LLC.
Ghosh Metal Industries LLC has excellent fabrication facility of temporary construction site hoarding panel fencing where Ghosh Metal got in-house production support & import of the required materials of fencing panel like profile corrugated sheet, galvanized C chanel, galvanized steel pipe, HDG clamp with nut and bolt.
Our direct and indirect regular client like EMAAR PROPERTIES – COLOR RAL 5002/5005
Our direct and indirect regular client like GHANTOOT TPT AD – COLOR RAL 9002/2004
Our direct and indirect regular client like ADNOC UNITED ARAB – COLOR RAL 5015
The Discontinuous Temporary Boundary hoarding fencing panel can be fabricated, subject to our customers of Ghosh Metal Industries LLC and the Standard Approved Construction site fence are available in our factory, 2 meter x 2 meter and the mount height of the fencing panel for construction boundary site parameter hoarding is 2 meter / 2.4 meter / 2.8 meter 3.0 meter.
Corrugated Profile sheet
Thickness: 0.40 mm to 0.70 mm.
Galvanized C Channel
Thickness: 40 mm x 40 mm x 40 mm x 1.2 mm to 2.0 mm.
Both end pipe 42.00 mm OD
Thickness: minimum thickness of 1.2 mm to 2.0 mm.
Back Support 1.6 meter to 2.0 meter. Length with concrete block of heavy weight 600 mm x 400 mm x 200 mm subject to customer requirement, site condition & wind pressure.
Ghosh Metal Industries – offers a wide range of colors for its construction site fencing in Abu Dhabi, Dubai, Ajman, Sharjah, Ras Al Khaimah, Fujairah, Al Ain in UAE subject to its customers' choice like RAL 9002 Off-White, RAL 1001 Beige, RAL 5012 Light Blue, RAL 5010 Dark Blue, RAL 5002 EMMAR Blue, RAL 7046 Dark Grey, RAL 7036 Grey, RAL 7037 Grey, RAL 1014 light beige, RAL 1015 Ivory, RAL 9003 White, RAL 9010 Pure White, RAL 3002 RED, RAL 3020 RED, RAL 2004 Orange, RAL 7015 Grey, RAL 6038 Green, RAL 6029 Light Green and more.