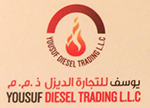 Yousuf Diesel Trading LLC
Business Details
Business Description:
YOUSUF DIESELTRADING is a (Diesel fuel supply management company based in UAE, We drive out costs and improve our customers' profitability through key services & features enhancing customers' supply chain & fuel management capabilities. is your complete source for fuel supply and logistics management services. We can customize, optimize and maximize a complete fueling solution to keep your business thriving. YOUSEF DIESELTRADING LLC. . is dedicated to provid economic & efficient supply & distribution of quality fuel products to our customers.
We supply Diesel Oil, Kerosene, Naphtha oil &Bitumen. We supply number plate as well.
VISION AND MISSION
YOUSEF DIESELTRADING . vision is to become one of the forfront suppliers into petroleum products markets. YOUSEF DIESELTRADING . mission is to provide quality products through innovation, learning and operation excellence whilst sustain maximum value for our group of companies.