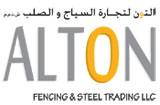 Alton Fencing and Steel Trading LLC
Business Details
Business Description:
ALTON group is one of the most respected, well known 3D signage, Advertising Steel Fabrication / Fencing & Real Estate COMPANY United Arab Emirates since our journey started in 1998 located in Dubai.
Our production division is having wide variety machinery, tools, Designing Section & skilled workers to complete WORKS "with Quality in Time" & in competitive price. We have undertaken turnkey projects of various prestigious clients in UAE & Other GCC.