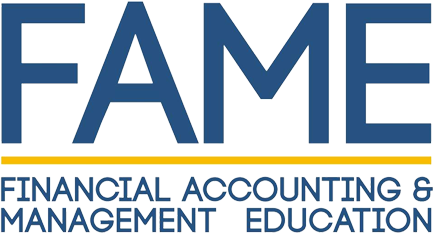 Business Details
Business Description:
FAME Training Institute is a one-stop solution for learning everything about Accountancy and Management.
UAE has a consortium of sorts of many small and medium enterprises which are engaged in Trading, Import & Export, and Retail Businesses. Most of these entities are unable to maintain proper books of accounts due of unavailability of quality accountants and/or, lack of legal compliance & reporting requirements.
In today's time one of the biggest obstacles that come in the way of the growth of managers, is their inability to judge the financial strength of their strategic inputs. This handicap results from a lack of strong financial knowledge. The ability to assimilate financial data is an invaluable asset in your career. It helps you identify and analyze business opportunities, assess financial risks and most importantly, evaluate your own ideas through a financial lens.
There is an ever-increasing demand for good accountants. In fact, countless businesses are in constant need for professionally trained staff with financial expertise. Likewise, to climb the career ladder, individuals need access to unbeatable business training in their local area.
At FAME Training Institute, we start as your advisors, you make us your guide and then as we go on to make your career, we become your mentors. This is not just any accounting course that we are talking about, this is a relationship we shall be building.
Recognizing the ever-growing demand for quality accounts and finance professionals in UAE and to contribute to the country's need for a skilled workforce, FAME – Financial Accounting & Management Education began its operation in September 2014.
Vision
Enhancing expertise and skills of individuals through practical coaching in Finance and Management segment.
Mission
Developing expertise and skills of individuals by linking the practical needs with the Theory. This shall be achieved by taking them through the journey of concepts, mapping it to the business needs and linking them with the practical solutions through Software Applications popularly used in the Industry. We intend to train, equip and sharpen entry-level, mid-level and senior level professionals in the field of Accountancy and Financial Management.