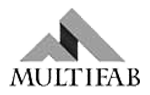 Multifab Metal Industries LLC
Business Details
Business Description:
Multifab Metal Industries L.L.C. was established in 2012, and has since gained a reputation for being one of the leading metalwork companies in the areas, having been involved in many projects in the UAE.
We operate from our state of the art equipped facilities at Al Qusais Industrial Area 1, where we provide both structural and architectural metal works, mostly in steel, stainless steel and aluminium etc.
Our motto is to fully understand our customers needs, and to provide customer satisfaction to the highest possible degree. To this end, from using modern CNC technology to providing detailed drawings of items to be manufactured, we are constantly looking to reduce costs to our customers, while continuously improving our methods and quality of fabrication to get our product right the first time every time. It is essential for us that our customer take our quality and delivery time for granted.
You will find Multifab Metal Industries L.L.C. will offer you professional services, thus making us an interactive and competent partner for your metalwork needs.
Our Activities
All activities are undertaken on a Design, Fabrication and Installation basis :
* Handrails and Balustrades (Stainless Steel & Mild Steel)
* Fencing, Cladding
* Work Benches, Steel Lockers and Steel Cabinets etc. (Stainless Steel & Mild Steel)
* Cat Ladders
* Steel Doors
* Mezzanine Floor Structures and Ledders
* Electroplating, Polishing, Powder Coating & Painting
* Lazer Cutting, CNC punching & CNC Waterjet cutting etc.
* Doors' iron mongery, Kick Plates, fabricated Handles (back to back)
* Storage Racks
* Road Signs' support Steel Work
* Diplay Stands, Shop Fittings
* Kitchen Equipments (Tables, Cabinets etc.)
Open Hours:
Saturday to Thursday 8:00 am to 6:00 pm, Friday Closed