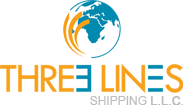 Three Lines Group of Companies
104, Al Khabaisi Bldg, Al Khabaisi Area
Dubai
76288
04-2387880
Call
04-2387881
Business Details
Business Description:
"Meeting the distance on time"
Welcome to the alluring and extremely fascinating world of Three Lines Shipping LLC., an ISO 9001:2008 certified company by UKAS- Quality management System. TLS is fully operational since 2001, having headquartered in Dubai and branches around the Middle East. We have established ourselves as a prominent shipping company by providing quality services on Freight Transportation, Project Forwarding, Warehousing and Logistic Solution Services.
We at TLS are proud to be a part of WFN (World Freight Network), MFA & WCA who have a strong coverage of valuable agents around the world. Thus, with a strong network of 180 affiliated offices and experienced staffs, we can render quality logistic requirements to small, medium & large multinational companies operating in the Middle East and worldwide.
We strive to develop a long-term business relationship with our customers by offering high quality and value added services, while maintaining the highest ethical standards. At TLS, we realize that clients have specific requirements with regards to their shipments. TLS therefore spends considerable time to consult the clients to understand their requirements without losing focus of our 'Right-on-Time' delivery system and we pride ourselves in being able to offer our clients competitive pricing. Our objective is to perform beyond the expectations of our customers in everything we perform.
TLS has a team of 75 dedicated and trained professionals who can ensure the safety and security of your consignments. Our employees are highly motivated and confident to provide quality services 365 days a year.
Consider Three Lines Shipping to be your Logistics & Supply Chain Service Provider. TLS has the resources & expertise to help you more effectively. Giving us an opportunity to serve you would definitely be the beginning of a mutually beneficial relationship.
Services:
Freight Forwarding, Custom Clearance, Warehousing, Surface Transportation, Multimodal Transportation, Project Cargo, ODC Consignments, Break Bulk, Heavy Lift, Equipment Rental, Logistics Solutions, Chartering, Project Logistics, Cargo Consolidation, Vessel Charter, Tugs & Barges, Hazardous Cargo, Packaging / Palletization / Fumigation, Value Added Services