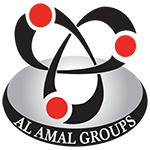 Al Amal Trading LLC
Business Details
Business Description:
Al Amal Group is a well-known storage solution providers across UAE, Middle East and Africa. We offer our customers a wide assortment of storage racks and capacity display solutions for business and commercial sectors.

Our range of shelving and racking products include:-

* Slotted Angle Shelving (Office Box Files Shelving)

* Bolt Free Shelving (Light Duty)

* Slotted Angle Frameworks

* Gondola Shelving System (Supermarket Shelving)

* Medium Duty Racking (Long Span Shelving)

* Heavy Duty Pallet Ranking

* Racking Materials Supported Platform

* Hand Pallet Trucks

* Personnel Steel Lockers, Metal Cupboards, Filing Cabinets

* Plastic Bins and Plastic Pallets

We supply a range of shelving solutions for almost all the market segments like hypermarkets, office, retail, warehouse, and residential use. We hold a profoundly experienced group of modern racking arrangements specialists who work in line with our creators, designers and venture supervisors. The structure, measurements and length, width and stature of the racks are designed based on the product type, its weight, goods transportation methods, storage, space, handling equipment and frequency of products handled.