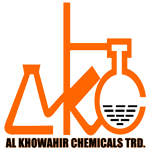 Al Khowahir Chemicals Mat Tr LLC
Near Dynatrade, Caterpillar Road, Industrial Area 2
Sharjah
6870
06-5424116
Call
06-5424016
Business Details
Business Description:
Al Khowahir Chemicals is your one-stop-shop for all kinds of chemicals. We have been in the business for two decades catering to the fiberglass, paint, water treatment, food & beverage, construction and oil field industry.
The company has an easily accessible and centrally located office in the Sharjah Industrial area in the United Arab Emirates. With an infrastructure to support volume sales and modern logistics, the company has established an outclass and large warehouse in Ajman, just a few minutes drive from our office.
The company has years of experience in handling orders for long term scheduled deliveries that are stocked at the warehouse, minimizing inventory, carrying costs for our customers. This is coupled with a commitment to practice Just-In-Time service that has earned Al Khowahir Chemicals a prominent name in the local market.
With over forty staff members who are trained and experienced in the field of chemicals, the company offers exceptional value to all clients. Growth in recent years has been outstanding!
With modern logistics, Al Khowahir ensures that customer needs are met at all times. Inventory is managed routinely and all chemicals are available ex-stock. Dedicated vehicles are available to carry stock for same day delivery anywhere in the Emirates.
Al Khowahir also has a fiberglass fishing dhow building factory that has provided for a steady flow of customers for fiberglass dhows. Since the operation is small in nature, Al Khowahir maintains a high quality standard in producing the dhows with top quality fiberglass raw materials.
Al Khowahir will be glad to associate with you and be your long standing partner. With your cooperation and support we look forward to establish an enduring relationship.
Please feel free to contact us for your queries. We are eager to expand our business portfolio and in doing so we believe in building long term business relationships!
PRODUCTS & SERVICES:- CHEMICALS FOR PAINTS, COATINGS, CONSTRUCTION, INKS, ADHESIVES, PLASTICS, FIBERGLASS, WATER TREATMENT, GRC & GRG
Products:
Fiber Glass Raw Materials, Paint & Construction Raw Materials, Swimming Pool & Water Treatment Chemicals, Food Grade Chemicals, Oil Field & Drilling Chemicals