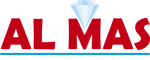 Al Mas Cleaning Mat Trdg LLC
Building No. 12&13, Next to New Industrial Area Police Station, Near Bin Laden RoundAbout, Industria
Sharjah
36724
06-5438444
Call
06-5394412
Business Details
Business Description:
AL MAS Cleaning Material Trading LLC was established in 2010 and we are one of the leading Manufacturer, Distributor, Exporter and Supplier of Cleaning Products in UAE.
Our main office and showroom is situated in Sharjah Industrial Area No.10, Next to New Industrial Area Police Station and our chemical manufacturing facility Al Mas Detergents & Disinfectants Industry LLC located in Jurf Industrial Area No.3, Ajman.
We are able to provide an excellent service to all our customers. We have developed an unrivaled service that is the first choice for many Leading Hotels, Restaurants, Hospitals, Clinics, Office Supplies, Food Industries, Catering, Schools, Universities and Facility Management Organizations etc.
We can offer the complete solution to the cleaning and hygiene needs of today's demanding professional; we are able to provide an excellent service to all our customers.
Our registered brand is famous in the market as "AMAL PLUS" and "RELAX". We are supplying the most popular Italian tissue papers from LUCART and CLASSEURO.
We are also supplying other famous brands Purell, Gojo, Provon, Dettol, Clorox, Pledge, Belage, Windex, Mr. Muscle, Glade, Vita, Airwick, Snowy, Mas Touch, Diamond, Hygiene Plus, Hygiene Fresh, Harpic, Lux, Fairy, Vim, Jiff, Downy, Tide, Ariel, White, Double Diamond, Delmond, Golden, Vita, 3M, Amheat, Brasso, Pif Paf, Baygon etc.
Products:
Cleaning Chemicals, Detergents and Disinfectants, Tissue Paper Products, Washroom Hygiene Products, Cleaning Equipment, Cleaning Tools, Trash Bags, Garbage Bins, Dispensers, Air Fresheners, Hotel Amenities, Gloves, Janitorial Service Trolleys, Industrial Cleaning Chemicals, Laundry Detergents, Car Cleaning Chemicals.