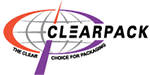 Clearpack Middle East Ltd
Business Details
Business Description:
Founded in1991 at Singapore, Clearpack group provides Best-in-Class Packaging machines for Primary, Secondary and End of line packaging needs at optimal costs. We have a presence across South East Asia, India, China, Middle East and Europe. With 6 factories, 11 offices and a dedicated team of packaging professionals, we aim to deliver excellent value to our customers by following a 'two-prong' strategy:
* Distributing well-known packaging machines backed by our sales and support network
* License manufacturing of Net Weight Filling and End of Line machines in our manufacturing facilities at China and Malaysia
We cater to the needs of a large array of multi-national, regional and local companies across
* Food
* Beverage
* Personal care
* Home care
We count companies like Unilever, P&G, J&J, Nestle, Colgate, Kraft, Danone, Coca-Cola, Dole Foods, Del Monte and many others in our customer list.
We owe our success to our esteemed customers and our reliable partners, both inspiring us to deliver "Customer Delight" and not mere satisfaction. It's an endeavour we take very seriously.
Services:
Bottle Making, Primary Packaging, Inspection, Secondary Packaging, Case Packing and Shrink Wrapping, Palletizers, Conveyors and Turnkey Packaging