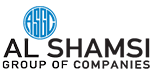 Al Shamsi Fibreglass Industries LLC
Products & Services :
Fibre Glass Tank
,
GRP Decoration Works
,
Panel Tanks
,
Plastic Water Tanks
,
Sectional Water Tank
,
Water Tanks
,
Fibre Water Tanks
,
Fibreglass
,
GRP Car Shed
,
GRP Decoration Products
,
GRP Panel Tanks
,
GRP Storage Tanks
,
PVC Water Tanks
,
Fibreglass and Fibreglass Products Manufacturers
,
Tanks
Business Details
Business Description:
AL SHAMSI GROUP OF INDUSTRIES is one of the main fiber and plastic producer in UAE. Consolidated under UAE law and controlled by Ajman Government, The organization is empowered with full time staffs and works who are expertise in their fields and look for a solution from various aspects. Their in depth knowledge in UAE's construction market, makes us very unique and unbeatable in the industry.
The organization has a show case of work, that positions us as Ajman's choicest development of residencies. We have a good reputation in the local wholesale and International markets, and solid business associations with UAE's best real estate developers and promoters. This gives our clients access to a excellent quality items in the UAE from us.
The nature of our items was likewise seen by the LONDON's INTERNATIONAL BUSINESS DEVELOPMENT and was very much remunerated with popular QUALITY AWARDS. We guarantee you that, our organization will give you the best quality product and service in UAE.
Products:
GRP Car Shed, GRP Chemical Tank, GRP Decoration Items, GRP Ladder & Lining, GRP Panel Tanks, GRP Sewerage Tanks, GRP Water Tanks, Water Tank