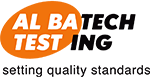 Albatech Testing Services LLC
Business Details
Business Description:
Since its beginning in 1996, Al Bayan Technical Equipment LLC (ALBATECH), focused on the urgent need of market to supply high quality of testing equipment for theCivil Engineering constructionmaterials (soil, concrete, cement, aggregate, rock and steel)to help and achieve high standard of quality buildings and infrastructures for long term sustainability. Thus, ALBATECH built-up a strong reputation in the market place as a reliable and dependable supplier of these specialistmaterials testing equipment.
Over the years, ALBATECHcarefully diversified and selected the world-renowned manufacturers to represent and market their products such as :
Deep Foundation Testing equipment, geotechnical, geophysical, data acquisition, environmental, soil investigation &drilling, portable& industrial measuring instruments and many other technical products.
Today, ALBATECH are leaders in the supply of all of these equipment throughout the GCC.
Deep foundation of most High-Rise Buildings, including Burj Khalifa, and many other major infrastructures in the U.A.E. and throughout the GCC are tested by equipment supplied by ALBATECH. We provide prompt after-sales technical support & training by our highly qualified and experienced factory-trained geologists and engineers.
Geotechnical Instrumentation is another field where ALBATECH was the FIRST company in the U.A.E. to pre-qualify andwonthe most prestigious Dubai Metro Project (Red & Green Lines) for the supply, installation and monitoring of Geotechnical Instrumentation. This was successfully completed with our partners and handed-over on time.
ALBATECH was also selected and awarded another majorDubai Metro Project, an unique specialist contract,to carry out Pre-Condition Buildings Survey,involving 254 buildings,along the Green Line. This was again successfully completed with our partners and handed-over on time.
ALBATECH, today, has gained vast experience over the last 20 years in our specialized technical field of activities, as listed above, and can offer a comprehensive range of products and services backed by highly qualified and experienced geologists and engineers. Stock of most critical products are held in Dubai for quick delivery. Stand-by equipment are available on hire before arrival of customers' orders or in case of emergency. We care for customers' needs to complete their projects on time without any hindrance or delays for mutual interest.