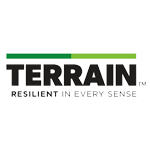 Urban Terrain Sports Equipments LLC
Business Details
Business Description:
The Terrain floorings are part of the ISMAT group and been in the business of rubber since 1994. Hence we know rubber better than others. We at Terrain, like to provide a surface which is safe and healthy for our children to play and also lasts longer than other facets. We take care to source the best raw material from premier manufacturers and certify that the binder and pigment used are all of the European regions. Today we are one of the largest manufacturers of crumb rubber products in the region with an annual output of 1,000,000 square meters of tiles.

Now that, it is not just a factor of our beautifully crafted rubber surface but also the material that goes in making them. It is recycled rubber. It is better suited to make the non-slip, maintenance-free surface, and it also does not add to the burden on natural resource. Well, if that makes our attractive rubber surface all the more alluring, wait till we impress you with our process in design, beautiful bright colours and range of Rubber Floorings.

Our Mission

Is to position Terrain as an international, world-class organization regarded as the pre-eminent service provider in sports infrastructure construction at affordable prices. To always act with complete integrity and transparency, thereby exceeding customer expectations.

Our Vision

Is to help the youth in the UAE in creating a happier and healthier environment, by providing sustainable, functional and aesthetic sports flooring solutions.