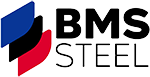 Best Metal Steel Trading LLC
Business Details
Business Description:
BMS Steel Trading LLC offers a comprehensive list of steel pipes and structural steel requirements. We are highly knowledgeable and experienced to source from worldwide makers of structural steel components. All of our materials are of superior grade, that holds the characteristics of high corrosion resistance with appropriate mechanical and physical properties. Our products are found applicable in multiple industry segments and applications.

We are one among the few best metal finishing service providers in UAE, well known for metal coating services like Electroplating, Galvanizing, Zinc Coating, Electro-stirring and Powder Coating. Our Galvanizing plant implants state of the art technology for coating and testing. The plant has been set up and run by the most experienced faculty in the Galvanizing Industry. We invite enquiries for our Galvanizing services and guarantee you the best customer service from our entire team at any stage.

We have gained our reputation in UAE as one of the leading stockist and supplier of carbon steel pipes and fittings, valves and structural steel for building construction, marine, offshore and shipbuilding industries. We never compromise on the quality of our products. Product quality, timeliness and reliable customer deliveries are the foundation of our business. We offer our clients with value-added services through a grounded understanding of potential needs and resolving phases which they may encounter during material use or transactions. Thus, we aim and commit to being a provider of high-quality business solutions.