1 results for
Hex Bolts in Abu Dhabi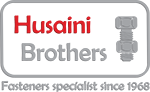 Shop 7, Al Hadhoudh Complex, Opp Tawjeeh Centre, M9 Musaffah
Abu Dhabi
052-4358460
Call
Products & Services :
Hex Bolts
,
Hardware
,
Bolts and Nuts
,
Bolt
,
Nut
,
Self Tapping Screws
,
HSFG Bolts
,
Structural Bolts
,
Foundation Bolts
,
U Bolts
,
Fasteners Industrial
,
Stainless Steel Fasteners
,
Allen Bolts
,
Anchor Bolts
,
Bran Bolts and Nuts
,
Screws
,
Rigging Hardware
,
Shackles
,
Bolts Nuts And Washers
,
Threaded Bars
,
Fasteners
About Hex Bolts
Hex Bolts
Hex bolts are the type of fasteners that are utilized in any type of fastening work. Listed are the top suppliers and dealers of hex bolts stocking some of the most comprehensive range of high quality and best performing hex bolts. Hex bolts are basically fasteners that contains six sided heads. These are manufactured with the industry standard dimensions with the forged heads. Applications of the hex bolts are wide like fastening wood, steel, furniture's, buildings and highway structures etc.,. Hex bolts are manufactured with different head types like hex tap bolts, hex cap screws, trim head hex cap screws, They all hold a hexagonal shape head and are generally driven with a wrench. hex finish nuts are also used for fastening, They have internal threads that helps to held the things much tighter and firmer. heavy hex nuts are heavy, large and are thicker than the usual standard hex nut. machine nuts are also hex shaped with smaller pattern of internal threads.