146 results for
Packers And Movers in UAE
About Packers and Movers
Packers and Movers in UAE - Reliable Moving Solution
Uae comprising seven Emirates is a big city. It is necessary to hire an experienced and professional packers and movers team to handle your shifting needs. Here we have grouped a list of packers and movers in UAE, licensed and reliable, and well-known for their high-quality services.
Moving is now made easy with the best packers and movers in Dubai
Their dedicated shifting experts do more than shift. They use the latest moving techniques and the right equipment to move efficiently.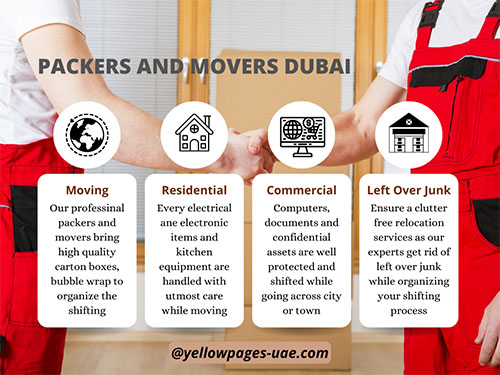 Packing/Unpacking: Listed professional moving experts bring high-quality carton boxes and bubble wrap to organize and move your belongings safely.
Move-in and move-out cleaning: More than just shifting your belonging from your old place to the new place, they also help to clean the premises.
Junk-Haul Off: If clients have a lot of junk materials left behind while moving, the packers and mover also help to get rid of them effortlessly. They can even move unused junk electronics to the trash.
Apartment Moving: Re-assembling or re-arranging is a critical and cumbersome process. Moving experts here help their clients with re-arranging in the safest way possible.
Residential Moving: They provide end-to-end residential moving across towns and cities at the lowest budget. They tailor a custom quotation for every client based on their needs.
Senior Moving: They also provide senior relocation services by offering support for senior citizens when they decide to simplify their home location and size.
Commercial Moving: Moving a business is not an easy task. The moving professional handles it in an organized way. They give options between flat rate packing and moving quotes or hourly pricing rates.
Movers and Packers Dubai charges for Home shifting and storage
| Home Type | Price |
| --- | --- |
| Studio Apartment | AED 500 to AED 900 |
| 1BR Apartment | AED 900 to AED 1200 |
| 2BR Apartment | AED 130 to AED 1550 |
| 3BR Apartment or Villa | AED 2400 to AED 3500 |
List of packers and movers near me
Arabian Global Express LLC Ph: 04-397126 is the most reliable packer and movers in Deira
Ideal Star Packaging Ph: 04-3411460 is a verified movers and packer near Al Quoz
Al Mas Cargo LLC Ph: 04-3559977 handles packaging and moving at the best price near Karama and Sharjah

Move anywhere inside UAE and International moving solutions
Choosing the right movers is your first and best move. Listed here with us are the most reliable packers and movers in UAE. Some of the benefits of hiring professional movers are
They provide moving insurance
They take care of the pet relocation
They help to store the assets in their storage location
They provide safe and reliable vehicle moving
Settlement services and many more.
Packers And Movers
Packers and movers service companies' help you pack and relocate with ease. The packing and moving service company would first send a surveyor to your home. The surveyor would take an inventory of all your belongings including valuable items and items that need to be handled with care. He would also make a note of all the objects in closets, drawers, storage units and so on. The service company would then give you a cost estimate. The cost would include labor and the materials required for the packing of your belongings. On the day you move, the packers and movers would pack and load your belongings and unload and unpack them at your new home. Packers and movers service companies have different sizes of trucks and vans to accommodate and transport the household items safely.
The packers and movers in UAE are well-equipped and trained to move household items, vehicles, boats and commercial goods with equal ease and efficiency. Hiring packers and movers to help you relocate would help you save a lot of time and also relieve you of the stress that comes with relocation. Packers and movers service might be a little more expensive than if you pack your belongings, load them onto a truck and drive to your new home. Karama and AL Quoz in Dubai and Hamdan street in Abu Dhabi are some of the popular locations in UAE to get in touch with packers and movers in UAE.
International movers FAQs
International and overseas moving is the most challenging task that anyone can face. Though there are many movers and packing services available there are still a lack of certainty in some areas. Here is the list of frequently asked questions that are answered with context to international moving from Middle East.
What is the notice period for International or overseas moving?




Usually when the schedule is free the appointment is booked instantly. In the other case there is a notice period of about 10 to 15 days normally.




Does international movers own handyman services also?




Yes, most of the packers and movers provide handyman services who can help fix the curtains, wall paintings, handle repairs. These services are provided with a nominal charge.




What are the packing materials used for International moving?




Packaging materials differ in international moving as it requires extra care because of the long-distance travel. They make sure that they use strong cardboard boxes with different size suitable for the goods. Flat boards, silica gel, super dry sticks, bubble wraps are used as the packaging materials.




Will you offer insurance for the International Shipments?




Yes. Every overseas shipment is insured mandatory covering all the basic and risk cover insurance with some additional charges.




What are the factors that affect the cost of International moving?




Many factors add weightage to the International moving cost. Some of them include
1. The moving service company.
2. The distance covered to the destination place.
3. The total weight of the luggage carried.
4. Packaging, assembling, dismantling and cleaning services.