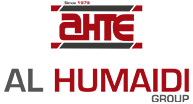 Al Humaidi Trading Enterprises LLC
Business Details
Business Description:
Al Humaidi Enterprise, established in the early 80s, nearly a quarter of a century ago, caters to the prime requirement of business needs prevailing in the trade & supply of Fasteners and Building Material. We have, over each passing year, firmly established ourselves as a market leader in the Manufacturing & Supply sector of Aluminium Ladders, Castor Wheels, and are the largest stockist of standard and special fasteners, pulleys and a variety of other hardware consumables.
We value customer satisfaction through integrity and teamwork and hold our standards high. Our continuous innovation, creative mind-set, and our attention to detail to see our customers' succeed is what drives us to deliver superior performance.
We manufacture and supply an enviable range of products of castor wheels, aluminium ladders, fasteners, pulleys and a wide variety of hardware products that cover our customers' requirements. The everest brand of Ladders are an articulation of products which are light-weight practical and reliable. Absolutely safe and comfortable to use with double sided wide steps you can stack it anywhere. It occupies less space for storage. To add to this, our team creates and delivers customer specific products with a quality that is difficult to beat! Our aim is to multiply our supplies both in quantity and quality to every geographical region and industry, maintaining our focus on manufacturing excellence.