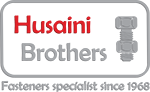 Husaini Brothers (LLC)
Products & Services :
Fasteners
,
Bolts Nuts And Washers
,
Bran Bolts and Nuts
,
Rigging Hardware
,
Screws
,
Shackles
,
Threaded Bars
,
Allen Bolts
,
Anchor Bolts
,
Fasteners Industrial
,
Stainless Steel Fasteners
,
Hardware
,
Bolts
,
Bolts and Nuts
,
Foundation Bolts
,
Hex Bolts
,
HSFG Bolts
,
Nuts
,
Self Tapping Screws
,
Structural Bolts
,
U Bolts
Business Details
Business Description:
Hussaini Brothers remain as one of the leading suppliers for high-quality fasteners. We are the largest stockiest of all kind of fasteners in the Middle East. We are stocking a wide range of fasteners at our warehouse in UAE to cater to the needs of the Middle East Market. We can offer the following products.

Heavy Series, HSFG Fasteners in:

BS4395 Part1 and Part2. ASTM A325 type 1/A490 with associated nuts and washers/ DIN-6914/15/16-HV

Hexagon sets & Bolts with associated nuts and washers to: BS3692/Din-933/931/934

Washers: To BS4395/ASTM F436M Hardened carbon steel washer

Directs Tension Indicators: For use with bolts to BS4395 parts 1 & 2/ASTM F959M, Type 8.8/10.9 compressible washer type. For 8.8 strength Bolts

Sacrificial Coating: Electro Zinc Plated- Hot Dipped Spun Galvanised- Sherardised

We have a very good supply arrangement all over the UAE and other GCC countries. We request you to kindly include us in your vendor list to quote our best prices. Assuring you our best service always and waiting for your valuable inquiry.