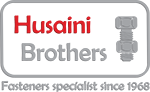 Husaini Brothers (LLC)
Products & Services :
Fasteners
,
Bolts Nuts And Washers
,
Bran Bolts and Nuts
,
Rigging Hardware
,
Screws
,
Shackles
,
Threaded Bars
,
Allen Bolts
,
Anchor Bolts
,
Fasteners Industrial
,
Stainless Steel Fasteners
,
Hardware
,
Bolt
,
Bolts and Nuts
,
Foundation Bolts
,
Hex Bolts
,
HSFG Bolts
,
Nut
,
Self Tapping Screws
,
Structural Bolts
,
U Bolts
Business Details
Business Description:
Established in 1968, Husaini Brothers started as a trading business dealing in a range of building material items such as nails, machine screws and self-tapping screw. As the UAE and the GCC countries developed, Husaini Brothers progressed and diversified into specialized engineering and marine quality fasteners pertaining to various sectors such as the construction and steel structure industry, oil and petro-chemical industry, the automotive sector, shipbuilding, electrical and switchgear and the furniture industry.
It's legacy of over 50 years has allowed Husaini Brothers to become one of the leading stockiest and trader of engineering fasteners in the Gulf region dealing in a variety of more than 2000 SKU's coming from reputed manufacturers located in USA, Europe and the Far east Asia.
At Hussaini Brothers, quality and durability are of paramount importance when supplying to all industries.
At Hussaini Brothers, we believe in supplying fasteners which are
"MADE TO LAST".
OUR STOCK RANGE:
BOLTS: ASTM A325/ ASTM A490/DIN 6914(10.9)/ EN 14399-4-HEAVY HEX BOLT,DIN 912/DIN 7984/DIN 6912-ALLEN BOLT/LOW HEAD ALLEN BOLT, DIN 7991-CSK ALLEN BOLT, ISO 7380-1-BUTTON HEAD ALLEN BOLT, ISO 7380-2 - FLANGE BUTTON HEAD ALLEN, DIN 6921-FLANGE BOLT, DIN 933/DIN 931 -HEX BOLT METRIC/UNC/UNF/BSW/BSF, DIN 603 - CARRIAGE BOLT/FINNECK BOLT, ART-NFE25-129 - ROOFING BOLT, DIN 571 - COACH BOLT (SCREW), DIN 444/186B - DOG BOLT/T BOLT
NUTS: DIN 6915/A563 10S/2H - HEAVY NUTS, DIN 929/DIN 928 - WELD NUT HEX/SQUARE, DIN 6331 -WHEEL NUT/LUG NUT WITH COLLAR, DIN 934 -HEX NUT CL8-CL10, DIN 985/DIN 982 -LOCK NUT (LOW/HIGH), DIN 980 -STEEL LOCK NUT, DIN 6923 -FLANGE NUT SERRATED, DIN 6926 -LOCK FLANGE NUT WITH SERRATION, DIN 1587/DIN 917 -DOME NUT/CAP NUT, DIN 6334 -LONG NUT, DIN 557/DIN 562 -SQUARE NUT/SQUARE NUT THIN, DIN 439/DIN 935 -CHECK NUT/CASTLE NUT, DIN 80704/DIN 7965 -CAGE NUT/RAMPA NUT, DIN 315/80701 -WING NUT/TOOGLE NUT, DIN 7967 -PAL-SELF LOCKING COUNTER NUT, LEFT THREAD NUT
WASHERS: DIN 6916 - STRUCTURAL WASHER, SQUIRTER DTI WASHER, DIN 125/DIN 9021 -PLAIN WASHER/BIG OD WASHER, DIN 6796 -CONICAL SPRING WASHER,AFRON SERRATED CONICAL WASHER TYPE M, DIN 137 - WAVE WASHER, DIN 2093 -DISC WASHER, SAFETY WASHER /SCHNORR/NORD WASHER, DIN 6798/DIN 6797-SERRATED TOOTH WASHER, DIN 127 -SPRING WASHER, DIN 93/DIN 463 -1 TAB WASHER/2 TABS WASHER, DIN 432 -EXTERNAL TAB WASHER, DIN 436 -SQUARE WASHER, DIN 434/DIN 6917-18 -SQUARE WASHER TAPPER, TURNED WASHER (CUP, STAMPED), NEOPRENE WASHER, SEALING WASHER, PACK WASHER, STARLOCK WASHER, SERRATES WASHER FOR DIN 912 BOLTS.
SCREWS: DIN 7504 - SELF DRILLING SCREW (HEX HEAD, CSK+, PAN+), DIN 7981/7982/7983 -SELF TAPPING SCREW (PAN+,CSK+,OVAL+), DIN 6928 -SELF TAPPING HEX WASHER HEAD, DIN 965,966, 7985, 84, 86 -MACHINE SCREW (CSK+, OVAL, PAN+, C.HEAD-, ROUND HEAD), DIN 916 /914/915 -GRUB SCREW, DIN 7997/97 -WOOD SCREW CSK+/CSK-TORX SCREW (CSK, PAN HEAD, BUTTON HEAD), DIN 7500 -TAPTITE SCREW (CSK+, PAN HEAD, CSK TORX), SECURITY SCREW, CHIP BOARD SCREW, HAMMER DRIVE SCREW U TYPE, DIN 18182-2 -DRYWALL SCREW
HEAVY LOAD ATTACHMENT: ANCHOR BOLT 4.6, 8.8, L SHAPED ANCHOR BOLT 4.6, 8.8, RAWL BOLT FOUNDATION BOLT, SHEER STUD, CHEMICAL ANCHOR BOLT
THREAD ROD & STUD: DIN 975 -THREAD ROD (MM/UNC/UNF/BSW), DIN 976 -STUDS FULL THREAD, DIN 938/DIN 939 -ENGINEERING STUD
RIVETS, PINS & INSERTS: DIN 94/11024 -COTTER PIN (SPLIT PIN)/R PIN, DIN 1481 -DOWEL PIN, DIN 660/DIN 662 -ROUND HEAD/FLAT HEAD RIVET, SELF TAPPING THREAD INSERT
HOOK & EYE PRODUCTS: BOW SHACKLE, HEAVY DUTY EYE BOLT, URN BUCKLE ,EYE BOLT (OPEN, CLOSE), SWIVEL EYE & JAW, LIFTING EYE BOLT & NUT, U BOLT, SADDLE CLIP/WIRE ROPE CLIP, D SHACKLE, HOOK (SQUARE, EYE, OPEN, S), THIMBLE, DOOR HOOK/SNAP HOOK
OTHER THINGS: DIN 766/DIN 763 -CHAIN (SHORT & LONG LINK), DIN 6336 -STAR KNOB (TYPE K, TYPE L), DIN 906/908/910 -PLUG ,WIRE ROPE (STEEL/PVC COTTED), DOOR HINGES, BUTT HINGES