6 results for
Road Safety Equipment And Products in Abu Dhabi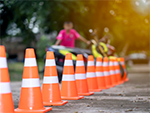 Enhance road safety with a wide range of top-quality equipment and products, designed to meet the highest safety standards. They reduce accidents and improve visibility. Built to withstand any weather condition, durable and reliable products ensure long-lasting performance on the road. With high visibility and reflective features, they effectively alert drivers day and night, promoting safe driving habits.
About Road Safety Equipment and Products
Road safety equipment and products in Abu Dhabi are products that are exclusively used for the safety on the road. Most of these equipment are used by the government while maintaining road safety as well as law and order. These equipment have been known to be manufactured as per the government regulations and policies. These are mostly equipment that are used to cordon of area or to stream the flow of traffic in a particular area such as the highways or near heavily trafficked intersections. These safety equipment come in a variety of sizes shapes and colours and are used according to the dictates of traffic law of the region.