23 results for
Coffee Machines in UAE
About Coffee Machines
Coffee machines in UAE
Coffee machines are the part of any food ventures. They play crucial role in any food accompaniments and providing the best flavoured and aromatic coffee is always quite challenging. Choosing the best and right coffee machine from the authorised brand dealers makes a huge difference in your party. A true Italian espresso coffee machines are the sought after coffe vending machines in the market. Making espresso, cappuccino is not as simple as making a coffee. Hence it is essential to crew down on the perfect coffee machine that enhances the taste of the hot beverage. Coffee machines grind and blend their own coffee bean and makes the perfect blend for the right espresso. Listed are the authorised dealers handling high quality coffee machines that are carefully built with double boiler that brews coffee just in the right temperature specially designed to avoid over heating. Bezzera, Dalla Corte, De Longhi, Elektra, Jura, Expobar, Faema, Francis, Gaggia, Isomac, Lelit, nemox, Wega are come of the top brands delat by the listed dealers. Get in touch to chosse the best coffee machines in UAE that meets your requirements.
Filter coffees are the most common and undoubtedly favorite beverage for all the coffee lovers. It is so very common in most of the parts and enjoyed as one of the staple drinks by most of the people around the world. Today we have number of coffee vending machines that makes the coffee making process simple, easy yet delicious. The Belgian and the French filter coffees are considered as the most exotic drink that are brewed using the latest coffee machines in the market. Espresso machines provide highly concentrated coffee that with a press of a button pushes hot boiling water in to the coffee bean powder that results with a shot of string espresso. Espresso is consumed in low quantity as the concentration of caffeine is too high. Coffee machines in in UAE are used in homes, offices, industrial complexes and several other locations. Though coffee is one of the favourite brewed beverages in in UAE, it is the coffee equipment which makes the whole experience possible. For a coffee lover or any individual, to have coffee within a time or place convenient to them is something that they long for. Coffee machines make this possible. Instead of going to a coffee shop just to get a cup coffee, this machine gives the consumer access to have coffee, whenever they feel like, regardless of the time. These machines are often installed in offices for the convenience of their employees. Listed are the dealers who install and repair any type of espresso and coffee machines, coffee brewers, coffee grinners and all the coffee machine related equipment's for both the residential and commercial purpose. They provide the best customer service before and after the coffee machine sale to their clients. These listed dealers have number of years' experience in the market on all types of branded coffee machines. They deal with almost all the top coffee machine manufacturers including Jura, Synchro, Promac, Nespresso, Sage, Coffema, Breville, Barista, Krups expresso, Franke, Nespresso etc. They hold wide range of stock that can suit every budget and taste buds. They even some of the handy pocket sized espresso coffee machine that is equipped with the hand brew pump.
The Latest and the Finest Coffee Machines
Coffee and tea vending machines have become part of everyone's life with the changing lifestyle. Business leaders and employees don't want to spend their time in making coffee or tea at their pantry instead these handy vending machines deliver the best aromatic tea and coffee with the touch of a button make life effortless. Listed here are the authorised suppliers of branded coffee vending machines in UAE. They deal with a comprehensive range of outstanding and superior quality coffee machines for personal and commercial consumption purpose. They have partnered with the top wholesale suppliers to having access to the modern and latest equipment trending in the market. Apart from supplying a wide range of coffee machines, they also provide professional barista training and maintenance services to keep the vending equipment up and running for a prolonged period. There are multiple design and style of coffee machines available in the market that suits your budget. Freestanding, tabletop, in cup and bean to cup, are the four prime coffee machines available in the market.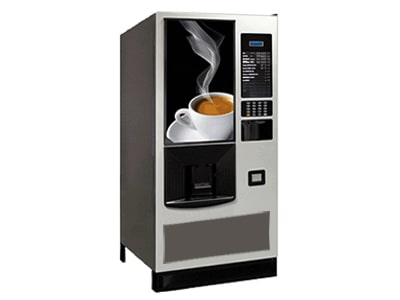 Freestanding Coffee Vending Machines in UAE
We can spot freestanding coffee vending machines in hospitals, commercial reception areas which allows people to devise a large number of beverages, so, freestanding coffee machines are flexible to make soup and warm chocolates.
• Production Capacity: 500/Month
• Procedure: Full-Automatic
• Type: Espresso Coffee Maker
• Processing Material: Coffee Bean
• Usage: Commercial
• Style: Coin-feed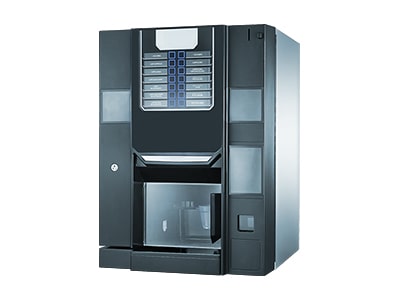 Tabletop Coffee Vending Machine in UAE
Tabletop coffee machines are similar to the freestanding coffee vending machine, except that they occupy little space when compared to the other vending machines. They are popular in the office pantry to make cappuccino or espresso effortlessly without spending much time. It just requires a change in a few settings to enjoy the perfectly blended hot beverage in a few seconds.
• Capacity: 11-15 Cups
• Type: Espresso Coffee Maker
• Processing Material: Coffee Bean
• Housing Material: Stainless Steel
• Net Weight: 67kg
• Usage: Office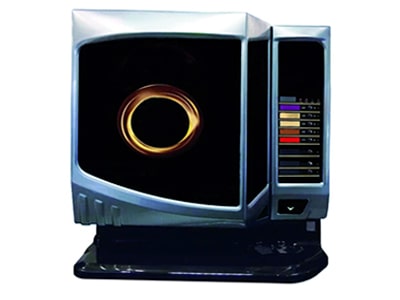 In Cup Coffee Vending Machine in UAE
In cup, vending machines are compact and fits in any corner of the pantry. They occupy less space and it is an ideal option to serve a smaller team at a cost-effective price. They are much cheap when compared to the other vending machines. They allow you to brew a perfect blended coffee or tea in a matter of a few seconds. In cup, machine models are sleek compact and semi-automatic with minimum o f5 choices to drink.
• 5 drink selection option
• 195 cups of capacity
• available dink size 71mm to 76mm
• sugar dispenser integrated
• compact machine dimension (W:640*D:400*H:30mm)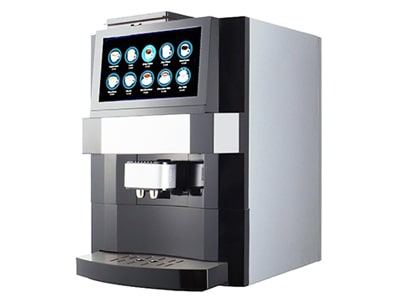 Bean to Cup Coffee Vending Machine in UAE
Bean to cup is a never-fail espresso machine that brews perfect coffee with every click of the button. They are easy to handle, operate and maintain. They require one-time installation and don't incur an overhead cost.