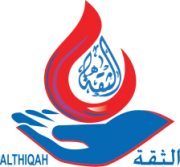 Al Thiqah Fire and Safety
Products & Services :
Fire Fighting Equipment
,
Fire Protection and Fire Fighting Equipment and Services
,
Fire Pumps
,
AMC for Residential Buildings upto Towers and Warehouse
,
Clean Agent Systems
,
Deluge Systems
,
Emergency Light
,
Fire Alarm
,
Fire Alarm and Fire Fighting Maintenance
,
Fire Alarm Maintenance
,
Fire Companies
,
Fire Fighting Contractors
,
FM 200 System
,
Foam Systems
,
HDPE Pipe
,
Hose Reel System
,
Kitchenhood Systems
,
Sprinkler System
,
Voice Evacuation Systems
,
Fire Alarm Systems
,
Fire Blankets
,
Fire Detection Equipment and Systems
,
Fire Extinguishers
,
Fire Stop Material Supplies
Business Details
Business Description:
AL THIQAH Safety & Security has been providing installation and maintenance of fire protection systems (fire alarm & firefighting) to commercial, industrial, government since 2007. We expanded our services in 2012 by adding special access control systems & CCTV.
Mission Statement
We are a professional firm providing fire sprinkler systems, fire protection and life safety services. We encourage our team member's growth through personal and professional development to enhance sustained growth of our company. We engage in active partnerships with our clients to provide design-focused solutions with an unyielding approach toward results. While others are content with technical compliance, we are only satisfied with incident-free outcomes.
It was a name we chose for our company to be an evidence of confidence. We will continue working hard to build long-term trusting relationships with our customers, suppliers, subcontractors and interested parties and an anticipation of our customer's needs and expectations.
Our Core Values
1. AL THIQAH Safety & Security team members were asked to provide management with their input to establish our core values. AL THIQAH team members have developed core values using one word with a description of what each word means to them. AL THIQAH Safety & Security Inc. has made these the cornerstone of our philosophy.
2. Safety "Operate in a safe, but timely manner; never work in conditions you deem as unsafe." "For yourself, your team, and your customer."
3. Respect "For team members, customer concerns, and the tools and equipment involved in the task at hand."
4. Integrity "Values must be demonstrated in the way you act and the way you insist others behave." "EFI has integrity, no team member or customer can compromise it."
5. Pride "Pride in work and general company ethics." "Craftsmanship, that I feel good about my services rendered…to meet or exceed NFPA and AL THIQAH Safety & Security standards."
6. Knowledge "Commitment to enhancing job knowledge." "EFI team members are the professionals in this field, we are not afraid of doing the work to complete a job correctly."
7. Initiative "A workforce ready, willing, and able to meet new challenges…all members pull together for the good of the company."
8. Innovation "Learn to adapt to change within a company, work with it, not against it, if a company is to grow, there must come changes." "Look for new opportunities…don't become stagnant."
Products:
FIRE SAFETY SYSTEMS, FIRE HYDRANT SYSTEMS, DELUGE SPRINKLER SYSTEM, FIRE SUPPRESSION SYSTEMS, FIRE ALARM SYSTEM, PUBLIC ADDRESS SYSTEM