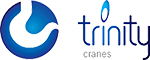 Trinity Cranes
Products & Services :
Crane Maintenance
,
Crane Manufacturers
,
Crane Parts
,
Cranes
,
EOT Cranes
,
Gantry Cranes
,
Hoists
,
JIB Cranes
,
Overhead Cranes
,
PEB
,
Steel Fabrication
,
Steel Fabricators and Engineers
,
Chain Hoists
,
CNC Machining
,
Crane Spare Parts
,
Fabrication
,
Festoon System
,
Gear Motors
,
Skid Tank
,
Sliding Doors
,
Steel Tanks
,
Structural Steel
,
Wire Ropes
,
Access Platforms
,
Bridge Cranes
,
Crane Components
,
Crane Inspection Services
,
Crane Installation
,
German Crane
,
Monorail Cranes
,
Pig Trolleys
,
Portable Cranes
,
Transfer Trolleys
Business Details
Business Description:
Trinity Mechanical Services (TMS) has three decades of experience in repair, reconditioning and manufacturing of critical mechanical components and assemblies. Since its establishment in 1988 as a machine shop, TMS has kept pace with ever changing requirements of diverse industries ranging from oil & gas, marine, dredging, power generation, construction and heavy engineering.
TMS's purpose-built, state-of-the-art workshops are equipped with heavy and CNC machinery and a dedicated welding and fabrication yard that can handle large equipment and components. Today, TMS is a preferred engineering service provider due to its commitment to quality and alignment to customer needs.
At TMS, all operations are carried out in line with internationally accepted quality standards. The company is constantly upgrading its testing, measuring & monitoring equipment and acquiring new processes to enhance its workmanship and quality.
The company conforms to ISO 9001:2015, ISO 14001:2015 and OHSAS18001:2007 quality management, environment and health & safety standards. It is also approved by the American Petroleum Institute with the license to monogram API- 5CT, 5DP, 6A, 7-1, 8C & 16A products.